Haikjeften Music Festival
Arena/Place:
Category:
Events, Festival, Visit Norway, [...]
Date: Friday 19 aug 2022
- Saturday 20 Aug 2022
Welcome to Haikjeften!
The Haikjeften Festival kicks off in Bromsgårdparken in Narvik 19 and 20 August 2022.
On Saturday morning, Haitanna, Haikjeften's family event, is presented by Sparebank 1 Nord-Norge. Read more about the festival at www.haikjeften.no.

Tickets purchased for Haikjeften 2020 and 2021 are automatically valid in 2022 if the refund option was not used (the deadline has expired).

Artists:

Veronica Maggio (SE)
Dagny
Maria Mena
deLillos
D.D.E.
Violet Road
Ruben
06 Boys

Haitanna Program:

Nicolay Ramm

NB! Haitanna is a free, non-alcoholic family event with a free age limit presented by Sparebank 1 Nord-Norge. EVERYONE who enters Haitanna must have their own Haitanna ticket. Also those who have a regular day pass or festival pass to Haikjeften. and those who participate in Fremover's children's race must have their own Haitanna ticket as well.

The festival pass is valid for 2 days and can not be shared with more or exchanged for day tickets. Please note that Haitanna is NOT included.

Program changes may occur. Cancellation of artists / bands and subsequent program changes will not result in the right to a refund of the ticket.
Date

Time

Arena/Place

Friday 19 aug 2022
4:00 PM

- 12:00 AM

Saturday 20 aug 2022
4:00 PM

- 12:00 AM
Accommodation
Distance: 1.4 km
Camp 291 is a new and modern accommodation offer consisting of 9 design cabins located undisturbed in Narvikfjellet. The cabins and the Camp Lodge will together form the basis for fantastic nature experiences all year round. Camp 291 is ready for its first guests in January 2022.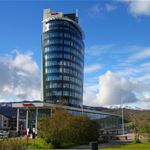 Hotel
Distance: 275 meters
Scandic Narvik is the newest hotel in the city, it opened 1st of March 2012. The hotel is one of Northern Norway's tallest builidings, and with it's 17 floors the view is spectacular. You can view the city center, the Ofot Fjord, the mountain "The Sleeping Queen" and all the surrounding mountains.
Hotel
Distance: 854 meters
Thon Hotel Narvik is a full service 4 star hotel and neighbour to the gondola that brings you up to the most beautiful view over Narvik, Ofotfjorden and the surrounding mountains.