Melissa Horn
Arena/Place:
Date: Wednesday 5 feb 2020
Melissa Horn has released new material and is travelling on a major Nordic tour. Melissa Horn will visit over 40 cities in Sweden, Norway, Denmark and Finland during the fall and winter. With her she's bringing brand new music.
"After the release, I go straight into the best bubble I know, the tour life. I feel that I have been vacant a little too long now and I want to get back at it again. We long to play the new record and with me I will have a medium-sized band with only favorite people in it, "says Melissa.
Date

Time

Arena/Place

Wednesday 5 feb 2020
7:30 PM

- 9:30 PM
Prices from

505 NOK

Price information

Per pers

Adult per pers: 505
Hotel
Distance: 279 meters
Welcome to Quality Hotel Grand Royal, a full-service conference hotel situated in the heart of Narvik, and known for its great personal service.
Hotel
Distance: 756 meters
Thon Hotel Narvik is a full service 4 star hotel and neighbour to the gondola that brings you up to the most beautiful view over Narvik, Ofotfjorden and the surrounding mountains.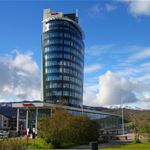 Hotel
Distance: 188 meters
Scandic Narvik is the newest hotel in the city, it opened 1st of March 2012. The hotel is one of Northern Norway's tallest builidings, and with it's 17 floors the view is spectacular. You can view the city center, the Ofot Fjord, the mountain "The Sleeping Queen" and all the surrounding mountains.