An evening with Ryan Giggs - POSPONED
Arena/Place:
Category:
Events, Lectures/Conferences/Meetings, Theatre / Show, [...]
Sir Matt Busby was the Old Trafford manager for nearly 25 years. Sir Alex Ferguson sat at the helm for nearly 27 years. Ryan Giggs was at the club's heart for a full 29 years. He arrived as a 14-year-old and left as a legend.
Us fans all have our favorite players. Some became United supporters because of George Best. Others because of Bryan Robson, Eric Cantona, David Beckham or Ole Gunnar Solskjær. For some, Wayne Rooney is the greatest.

Though, at the end of the day, Ryan Giggs might just be the greatest of them all?

In any case, it is certain that some of his records stand. Which player can ever match 13 league gold? Or 21 league and cup titles in England? Add two from the Champions League and two from the Club World Cup. A total of 35 titles, small and large. And all for the same club! No player will ever beat his record in appearances for Manchester United.

963 mandatory matches. He regularly "rocked" the old record with 205 games more than Bobby Charlton.
When he chose to break the tape after almost 29 years in the same club, we know him well enough to know that he did it with a heavy heart. In a perfect world, he comes back one day and becomes the manager, the job he was predicted to get when Louis van Gaal became the manager.
There are millions of footballers who dream of, or have dreamed of, playing for Manchester United. Ryan Giggs did it all. He was a player, for a short period manager, he was assistant manager, and eventually became a legend.

If there's ever been a person who deserves the title of "Mr Manchester United", it's Ryan Giggs. Welcome to an evening with Ryan Giggs!


The event is postponed. New date is coming this summer.
Date

Time

Arena/Place

Friday 1 may 2020
8:00 PM

- 9:30 PM
Prices from

1000 NOK

Price information

Per person

Ordinary: NOK 1000 Meet & Greet: NOK 2500 (limited number)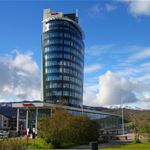 Hotel
Distance: 189 meters
Scandic Narvik is the newest hotel in the city, it opened 1st of March 2012. The hotel is one of Northern Norway's tallest builidings, and with it's 17 floors the view is spectacular. You can view the city center, the Ofot Fjord, the mountain "The Sleeping Queen" and all the surrounding mountains.
Hotel
Distance: 756 meters
Thon Hotel Narvik is a full service 4 star hotel and neighbour to the gondola that brings you up to the most beautiful view over Narvik, Ofotfjorden and the surrounding mountains.
Hotel
Distance: 278 meters
Welcome to Quality Hotel Grand Royal, a full-service conference hotel situated in the heart of Narvik, and known for its great personal service.