After a great success with his previous show "Drittliv" and the podcast "Klagemuren", Kevin Kildal is finally back with another amazing stand up show.
He has now put personal tragedies behind him, the alter ego "Arnt Finesse" is gone, and Kevin has grown up, gotten responsibilities and changed his lifestyle.
He has gone from being a carefree boy with bad finances and bad breath, to being a man with lots of worries, bad finances and bad breath.
Still happy yet dark, still honest - yet shameless!
Date

Time

Arena/Place

Friday 27 mar 2020
7:00 PM

- 9:00 PM
Hotel
Distance: 278 meters
Welcome to Quality Hotel Grand Royal, a full-service conference hotel situated in the heart of Narvik, and known for its great personal service.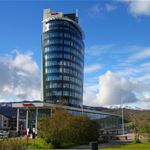 Hotel
Distance: 188 meters
Scandic Narvik is the newest hotel in the city, it opened 1st of March 2012. The hotel is one of Northern Norway's tallest builidings, and with it's 17 floors the view is spectacular. You can view the city center, the Ofot Fjord, the mountain "The Sleeping Queen" and all the surrounding mountains.
Hotel
Distance: 756 meters
Thon Hotel Narvik is a full service 4 star hotel and neighbour to the gondola that brings you up to the most beautiful view over Narvik, Ofotfjorden and the surrounding mountains.