Hålogaland Teater - Blå åker
Location
: Visit Narvik Region
Arena/Place:
Category:
Events, Event, Concerts
A thriller starring the ocean

Who really owns the fish in the ocean, and who really decides how to live our lives? Who should be hung when the fish disappear? Blue Field is back with three performances in Tromsø before we go on tour.
"Blå åker" is a political thriller about robbery in plain sight, and high-level political games. Both local heroes and the big guy himself - Røkke - get a glimpse when we look at the deep sea and Norwegian fisheries policy.

"Blå Åker is a playful and very educational introduction to Norwegian fisheries policy, based on a clear political stance. Now just let the debate go." - Nordlys

By Ragnar Olsen
Date

Time

Arena/Place

Monday 3 feb 2020
7:00 PM

- 8:00 PM
Prices from
195 NOK
Price information
Adult NOK 195 Student NOK 140 Honorary NOK 150 Groups over 10 people NOK 135 per person
Hotel
Distance: 805 meters
Thon Hotel Narvik is a full service 4 star hotel and neighbour to the gondola that brings you up to the most beautiful view over Narvik, Ofotfjorden and the surrounding mountains.
Hotel
Distance: 204 meters
Welcome to Quality Hotel Grand Royal, a full-service conference hotel situated in the heart of Narvik, and known for its great personal service.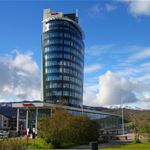 Hotel
Distance: 328 meters
Scandic Narvik is the newest hotel in the city, it opened 1st of March 2012. The hotel is one of Northern Norway's tallest builidings, and with it's 17 floors the view is spectacular. You can view the city center, the Ofot Fjord, the mountain "The Sleeping Queen" and all the surrounding mountains.