Vinterfestuka 2020 - Det Betales
Location
: Visit Narvik Region
Arena/Place:
Category:
Events, Event, Concerts, [...]
Date: Saturday 14 mar 2020
The band based in Drammen are well known for many, and over 40 years together as a band has made them legendary. The last time they visited Narvik, the local newspaper Fremover wrote: "A thought is creeping through: Could the copy better than the original? We'll leave this slightly absurd reflection and conclude with a delicious nostalgic trip down Penny Lane… or memory lane, if you will." - Fremover, 10.03.18.
They have played over 50 concerts at The Cavern Club in Liverpool, and been named by The Beatles first manager Alan Williams as the world's best Beatles tribute band. Not because they resemble the originals in appearance, but because they have the energy, credibility, humor and true love of the music they play.

Their new show Best of Beatles is a journey through the entire Beatles era. All the most famous tunes are included: She loves you, Yesterday, A hard days night, Help, Ticket to ride, Here comes the sun, All you need is love, Hey Jude and many other hits. The audience can sing along as much as they can!

Organizer: Vinterfestuka 2020
Date

Time

Arena/Place

Saturday 14 mar 2020
7:00 PM

- 8:00 PM
Prices from
340 NOK
Price information
Adult NOK 450 Youth/student NOK 340 OMT BBL NOK 385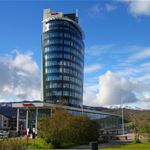 Hotel
Distance: 399 meters
Scandic Narvik is the newest hotel in the city, it opened 1st of March 2012. The hotel is one of Northern Norway's tallest builidings, and with it's 17 floors the view is spectacular. You can view the city center, the Ofot Fjord, the mountain "The Sleeping Queen" and all the surrounding mountains.
Hotel
Distance: 600 meters
Welcome to Quality Hotel Grand Royal, a full-service conference hotel situated in the heart of Narvik, and known for its great personal service.
Hotel
Distance: 1.2 km
Thon Hotel Narvik is a full service 4 star hotel and neighbour to the gondola that brings you up to the most beautiful view over Narvik, Ofotfjorden and the surrounding mountains.