Snart gryr en ny dag - VU 2020
Location
: Visit Narvik Region
Arena/Place:
Category:
Events, Event, Festival, [...]
Song unites at the crossroads of municipal boundaries!

"Snart gryr en ny dag" is a large-scale celebration of the municipal merger of Tysfjord, Ballangen and Narvik. In this concert you will be served wonderful Northern Norwegian music written by Trygve Hoff. "Kjærlighetsvise i mørketid", "Snart gryr en dag", "Har en drøm" and "Nocturne i Nord" are some of the goodies.
Behind the orchestra from Musikk in Nordland and soloists Karoline Åseng and Mikael Rönnberg are chanting a choir of 150 singers from all three municipalities. Also part of the project is Bodø-Oktetten, which has released a record of music by Trygve Hoff.

The Norwegian Choir Association is doing this project in collaboration with Fellesnemda for New Narvik Municipality, MiN, Vocal Art and NNPS.

Organizer: Vinterfestuka
Date

Time

Arena/Place

Sunday 15 mar 2020
7:00 PM

- 8:00 PM
Prices from
260 NOK
Price information
Ordinær: NOK 390 Honnør/student: NOK 360 Barn under 16 år: NOK 290
Hotel
Distance: 928 meters
Thon Hotel Narvik is a full service 4 star hotel and neighbour to the gondola that brings you up to the most beautiful view over Narvik, Ofotfjorden and the surrounding mountains.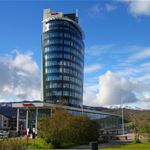 Hotel
Distance: 485 meters
Scandic Narvik is the newest hotel in the city, it opened 1st of March 2012. The hotel is one of Northern Norway's tallest builidings, and with it's 17 floors the view is spectacular. You can view the city center, the Ofot Fjord, the mountain "The Sleeping Queen" and all the surrounding mountains.
Hotel
Distance: 280 meters
Welcome to Quality Hotel Grand Royal, a full-service conference hotel situated in the heart of Narvik, and known for its great personal service.