Oscar Danielson - Vinterfestuka 2020
Location
: Visit Narvik Region
Arena/Place:
Category:
Events, Event, Festival, [...]
Date: Wednesday 18 mar 2020
Oscar Danielson is his own genre, and by many considered Sweden's best songwriter. After the album «Stockholm in my heart» (2011) with the song «Besvärjelse» he has gained an ever larger audience, and toured extensively throughout Scandinavia.
In November 2014, he warmed up for Bjørn Eidsvåg in a crowded Oslo Spectrum, and it is far between the times 9000 people are as eager as they were then. Shortly after, he appeared on NRK's "Lindmo", and again both excited and intrigued Danielson's song universe the Norwegian people.

Now the Stockholm-born 46-year-old is coming back to us with a show that evokes laughter as well as tears. The theme is - of course - women. There are songs about love, full of seriousness and deep human observations, spiced with humor that are the hallmarks of Oscar.

Eva Weel Skram has made a version of Oscar's song "Sorcery" with Norwegian text, "We Lover".
Date

Time

Arena/Place

Wednesday 18 mar 2020
7:00 PM

- 8:00 PM
Prices from
250 NOK
Price information
Ordinær: NOK 330 Ungdom/student: NOK 250 OMT BBL: NOK 280
Hotel
Distance: 331 meters
Welcome to Quality Hotel Grand Royal, a full-service conference hotel situated in the heart of Narvik, and known for its great personal service.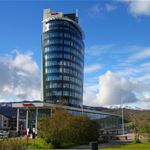 Hotel
Distance: 260 meters
Scandic Narvik is the newest hotel in the city, it opened 1st of March 2012. The hotel is one of Northern Norway's tallest builidings, and with it's 17 floors the view is spectacular. You can view the city center, the Ofot Fjord, the mountain "The Sleeping Queen" and all the surrounding mountains.
Hotel
Distance: 583 meters
Thon Hotel Narvik is a full service 4 star hotel and neighbour to the gondola that brings you up to the most beautiful view over Narvik, Ofotfjorden and the surrounding mountains.