Balklang sings ABBA
Location
: Visit Narvik Region
Arena/Place:
Category:
Events, Event, Concerts
Date: Saturday 18 apr 2020
In recent years Balklang has done several projects with music. "Country Saloon", "Låt for låt", "Hver gang vi møtes" and "Ønskelåten".
This season we have taken on the wonderful music of ABBA. We want to make it as close to the original as possible, so we do it in the ABBA way. With newly written choral arrangements, proper music, and our own soloists in the choir, we aim to produce the right "ABBA sound".

We warmly welcome you to a journey back to the 70s, and to a reunion with songs from a whole decade, with Balklang's version of ABBA.
Date

Time

Arena/Place

Saturday 18 apr 2020
6:00 PM

- 7:00 PM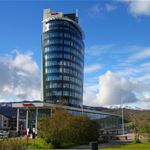 Hotel
Distance: 262 meters
Scandic Narvik is the newest hotel in the city, it opened 1st of March 2012. The hotel is one of Northern Norway's tallest builidings, and with it's 17 floors the view is spectacular. You can view the city center, the Ofot Fjord, the mountain "The Sleeping Queen" and all the surrounding mountains.
Hotel
Distance: 275 meters
Welcome to Quality Hotel Grand Royal, a full-service conference hotel situated in the heart of Narvik, and known for its great personal service.
Hotel
Distance: 840 meters
Thon Hotel Narvik is a full service 4 star hotel and neighbour to the gondola that brings you up to the most beautiful view over Narvik, Ofotfjorden and the surrounding mountains.