Schøyen, Skåber og Cess - Three Elephants in the Room
Location
: Visit Narvik Region
Arena/Place:
Date: Saturday 25 apr 2020
Schøyen, Skåber and Cess march their victory walk to Narvik!

"Three elephants in the room" has become one of the biggest successes that has ever been at Latter in Oslo and the success is still touring. Both the audience and the press love this energy bomb of a performance, where three of the country's funniest get to do what they can best. And now almost 100,000 people have seen the show.
As the title reveals, the show revolves around the term "the elephant in the room" - things we're all aware of but no one wants to talks about. During the show, the ladies will take on "elephants" of different colors and shapes, whether they appear as relatives at the wedding dinner, an honest mix choir or too strict criterias for the dream guy.

Look forward to a hysterically fun evening at Narvik Kulturhus when Hege Schøyen, Linn Skåber and Cess will march with a full band in the back!
Date

Time

Arena/Place

Saturday 25 apr 2020
7:00 PM

- 8:00 PM
Prices from
480 NOK
Price information
ordinær: NOK 570 student: NOK 480 grupper (minimum 8 personer): NOK 540 pr. person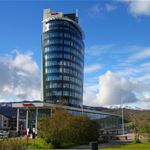 Hotel
Distance: 173 meters
Scandic Narvik is the newest hotel in the city, it opened 1st of March 2012. The hotel is one of Northern Norway's tallest builidings, and with it's 17 floors the view is spectacular. You can view the city center, the Ofot Fjord, the mountain "The Sleeping Queen" and all the surrounding mountains.
Hotel
Distance: 294 meters
Welcome to Quality Hotel Grand Royal, a full-service conference hotel situated in the heart of Narvik, and known for its great personal service.
Hotel
Distance: 761 meters
Thon Hotel Narvik is a full service 4 star hotel and neighbour to the gondola that brings you up to the most beautiful view over Narvik, Ofotfjorden and the surrounding mountains.