10 Years with Erik and Kalle
Location
: Visit Narvik Region
Arena/Place:
Category:
Events, Event, Family event
Date: Saturday 15 feb 2020
10 years have passed since Erik Mogeno came in 2nd place in Norwegian Talents, and decided to live on entertainment. To mark this, he has put together a big anniversary show to be shown across the country in 2020.
This show has been in the works for over a year and will be a magical, and not least a humorous journey for the whole family. You'll meet some of Erik`s most popular characters, like the hyper, and slightly nervous Rotta Geir, the beautyful ostrich Erna, the bitter Kjell, and the always popular and somewhat spiteful rabbit Kalle, plus a few more surprises.

Erik Mogeno is known for his good communication ability to the children, and we guarantee a show the children will talk about in retrospect. This is a high-class family show and also features fun for youth and adults.

After over 2000 performances across the country over the last 10 years, you may have experienced one or more of Erik's shows in the past. This show is brand new for the occasion, and contains songs you've never seen before.

So join in celebrating Erik Mogeno`s 10th anniversary as a professional artist at Narvik cultural center

Read more about Erik Mogeno at www.erikmogeno.com
Date

Time

Arena/Place

Saturday 15 feb 2020
2:00 PM

- 3:00 PM
Prices from

180 NOK

Price information

Per person

Barn 3-12 år: NOK 180 Barn under 3 år: gratis Voksne: NOK 210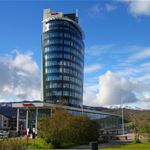 Hotel
Distance: 298 meters
Scandic Narvik is the newest hotel in the city, it opened 1st of March 2012. The hotel is one of Northern Norway's tallest builidings, and with it's 17 floors the view is spectacular. You can view the city center, the Ofot Fjord, the mountain "The Sleeping Queen" and all the surrounding mountains.
Hotel
Distance: 733 meters
Thon Hotel Narvik is a full service 4 star hotel and neighbour to the gondola that brings you up to the most beautiful view over Narvik, Ofotfjorden and the surrounding mountains.
Hotel
Distance: 176 meters
Welcome to Quality Hotel Grand Royal, a full-service conference hotel situated in the heart of Narvik, and known for its great personal service.