Hilsen Terje Nilsen - Vinterfestuka 2020
Location
: Visit Narvik Region
Arena/Place:
Category:
Events, Concerts, The Winter Festival
Date: Saturday 21 mar 2020
Terje Nilsen is one of Northern Norway's most recognized musicians and songwriters, known for songs such as "Mjelle" and "Blå Ballade". His departure in March 2019 gave Torgeir Steinsland and Sindre Myrbostad the idea of gathering a bunch of Sortland based musicians to pay tribute to his music.
The songs range from melancholic love songs and racy songs to children's songs for both children and adults. This project was produced for the Sortland Jazz Festival and the new versions of Nilsen's songs were presented to the Sortland audience during the festival in September 2019. It was a great success, with sold-out concert, extra set and brilliant feedback from a very enthusiastic audience.

Starring: Torgeir Steinsland, vocals; Sigrun Tara Overland, vocals and auto harp; Rune Nielsen, guitar; Rasmus Johansen, bass; Håkon Kristiansen, drums; Lisa Holstad, vocals and cello; Sindre Myrbostad, vocals and piano.
Date

Time

Arena/Place

Saturday 21 mar 2020
7:00 PM

- 9:00 PM
Prices from

260 NOK

Price information

Per person

Adult: NOK 350 Student: NOK 260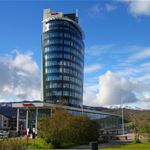 Hotel
Distance: 117 meters
Scandic Narvik is the newest hotel in the city, it opened 1st of March 2012. The hotel is one of Northern Norway's tallest builidings, and with it's 17 floors the view is spectacular. You can view the city center, the Ofot Fjord, the mountain "The Sleeping Queen" and all the surrounding mountains.
Hotel
Distance: 358 meters
Welcome to Quality Hotel Grand Royal, a full-service conference hotel situated in the heart of Narvik, and known for its great personal service.
Hotel
Distance: 812 meters
Thon Hotel Narvik is a full service 4 star hotel and neighbour to the gondola that brings you up to the most beautiful view over Narvik, Ofotfjorden and the surrounding mountains.