Groms Plass & Narvik Skolekorps - Vinterfestuka 2020
Arena/Place:
Category:
Events, Family, Concerts
Narvik Skolekorps is celebrating their 70 year anniversary in 2020. This is marked by an anniversary concert in collaboration with Groms Plass and the Winter Festival in Narvik. This will be a great concert with songs from "En vinternatt ved Katterat" to "Toget" and "Se dæ førr når toget går".
The notes were written by Idar Torskangerpoll, a highly acclaimed composer in Norway. In this way we have created unique music about Narvik, for Narvik, which reflects the great music of Groms Plass in a mix of band music and the unique style of the Groms Plass.
We hereby invite you to an anniversary concert with a program where we will raise the ceiling in Lokstallen!
Date

Time

Arena/Place

Monday 16 mar 2020
6:00 PM

- 8:00 PM
Phone number (booking)
+47 76950350
Prices from

230 NOK

Price information

Per person

Voksen: NOK 230 Barn 0-17 år: Gratis inngang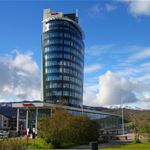 Hotel
Distance: 205 meters
Scandic Narvik is the newest hotel in the city, it opened 1st of March 2012. The hotel is one of Northern Norway's tallest builidings, and with it's 17 floors the view is spectacular. You can view the city center, the Ofot Fjord, the mountain "The Sleeping Queen" and all the surrounding mountains.
Lodge
Distance: 878 meters
The Arctic Dome is beautifully located in Narvikfjellet with an amazing view of Narvik, fjord and mountains. Enjoy the arctic light through the roof and front windows, and lay under the midnight sun or the northern lights and wake up in nature.
Hotel
Distance: 651 meters
Welcome to Quality Hotel Grand Royal, a full-service conference hotel situated in the heart of Narvik, and known for its great personal service.