Frida Ånnevik - Vinterfestuka 2020
Location
: Visit Narvik Region
Arena/Place:
Category:
Events, Event, Concerts, [...]
Date: Thursday 19 mar 2020
Frida Ånnevik from Ridabu outside of Hamar has established herself as an important Norwegian voice in our music landscape. With four releases behind her, Frida has earned praise and good criticism, and not to mention three spellman awards.
She is now up to date with the album "Other songs", a record project that has been going on for several years. It's a cover album with songs from a wide range of artists and songwriters like Joni Mitchell, Spice Girls, and Janis Ian. "There are songs I have sneaked into as extras in my concerts, there are songs from my role models, comfort songs for me and songs that I have wondered what would sound like in Norwegian. Then I wanted to record them. "

Along with her she has Haldor Røyne and Andreas Stensland Løwe. Frida, Haldor and Andreas will give you goosebumps with new, reworked songs, and with lovely versions of songs from previous releases.
Date

Time

Arena/Place

Thursday 19 mar 2020
9:00 PM

- 11:00 PM
Phone number (booking)
+47 76950350
Prices from

230 NOK

Price information

Per pers

Adult: NOK 230 Children 0-17 y/o: Free entrance
Hotel
Distance: 337 meters
Welcome to Quality Hotel Grand Royal, a full-service conference hotel situated in the heart of Narvik, and known for its great personal service.
Hotel
Distance: 754 meters
Thon Hotel Narvik is a full service 4 star hotel and neighbour to the gondola that brings you up to the most beautiful view over Narvik, Ofotfjorden and the surrounding mountains.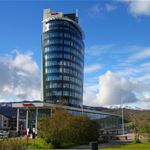 Hotel
Distance: 128 meters
Scandic Narvik is the newest hotel in the city, it opened 1st of March 2012. The hotel is one of Northern Norway's tallest builidings, and with it's 17 floors the view is spectacular. You can view the city center, the Ofot Fjord, the mountain "The Sleeping Queen" and all the surrounding mountains.