More Colors
Arena/Place:
Category:
Events, Family, Concerts, [...]
Date: Thursday 23 apr 2020
More Colors is a project where children and young people from all over the world meet to learn music and dance from each other. Now, for the fourth year in a row, we have put together a color-speaking performance for the Narvik audience.
This year's program features music and dance from Africa, Asia and Europe, colors and enthusiasm. 50 charming children and young people living in Narvik will show off their culture with genuine joy of communication. Musicians are, as always, the best we have in Narvik, under the knowledgeable direction of Tor Eirik Nergård.
Date

Time

Arena/Place

Thursday 23 apr 2020
6:30 PM

- 8:30 PM
Prices from

150 NOK

Price information

Per person

Adult 250 NOK Child 150 NOK Family of 2 adults + 2 children, 600 NOK
Hotel
Distance: 745 meters
Thon Hotel Narvik is a full service 4 star hotel and neighbour to the gondola that brings you up to the most beautiful view over Narvik, Ofotfjorden and the surrounding mountains.
Hotel
Distance: 286 meters
Welcome to Quality Hotel Grand Royal, a full-service conference hotel situated in the heart of Narvik, and known for its great personal service.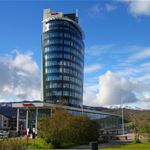 Hotel
Distance: 178 meters
Scandic Narvik is the newest hotel in the city, it opened 1st of March 2012. The hotel is one of Northern Norway's tallest builidings, and with it's 17 floors the view is spectacular. You can view the city center, the Ofot Fjord, the mountain "The Sleeping Queen" and all the surrounding mountains.