A sparrow and a diva
Arena/Place:
Category:
Events, Theatre / Show
Date: Wednesday 9 sep 2020
A show of lived life, love and friendship. A friendship between two artists where the preconditions are totally different.
French artist Edith Piaf, nicknamed "Spurven" - and the singing movie star and diva Marlene Dietrich, were both superstars of their time. The two world-renowned artists both lived a life in the limelight, and today are strongly associated with the time around World War II. Piaf came from poor conditions in Paris, Dietrich from the upper class in Berlin. They were totally different in expression, background, style and life, but nevertheless developed a close friendship that lasted a lifetime. Through music and their efforts during World War II, they both inspired their contemporaries and left deep marks in history.
Date

Time

Arena/Place

Wednesday 9 sep 2020
7:30 PM

- 8:30 PM
Price information
Ordinary kr. 280,- OMT-bbl kr. 260,-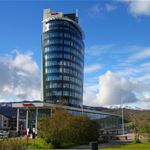 Hotel
Distance: 188 meters
Scandic Narvik is the newest hotel in the city, it opened 1st of March 2012. The hotel is one of Northern Norway's tallest builidings, and with it's 17 floors the view is spectacular. You can view the city center, the Ofot Fjord, the mountain "The Sleeping Queen" and all the surrounding mountains.
Hotel
Distance: 756 meters
Thon Hotel Narvik is a full service 4 star hotel and neighbour to the gondola that brings you up to the most beautiful view over Narvik, Ofotfjorden and the surrounding mountains.
Hotel
Distance: 279 meters
Welcome to Quality Hotel Grand Royal, a full-service conference hotel situated in the heart of Narvik, and known for its great personal service.