Astrid S: WORLD TOUR PART ONE
Arena/Place:
Category:
Events, Theatre / Show
Date: Saturday 26 sep 2020
Astrid S goes on a big world tour and arrives at Narvik Kulturhus on September 26.
Astrid S has had an adventurous success in the last couple of years, and the tree seems to grow right into the sky. The 20-year-old's debut epic included one of her biggest hits, "Hurts So Good," and topped the charts in 21 countries. Since then, she has released several EPs with major international success. Songs such as "Breathe", "Paper Thin", "2AM", "Hyde" and the Matoma collaboration "Running Out" have contributed to a big fan base worldwide, with over 1 billion plays total. She has won MTV EMA (Best Norwegian Act), Spellemannpris for the Newcomer of the Year and Spellemann of the Year.2020 will be a big year for Astrid with the release of debut album and lots of new music.
Date

Time

Arena/Place

Saturday 26 sep 2020
9:00 PM

- 9:02 PM
Price information
Ordinary kr. 420,- Student kr.370,-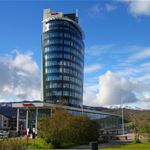 Hotel
Distance: 188 meters
Scandic Narvik is the newest hotel in the city, it opened 1st of March 2012. The hotel is one of Northern Norway's tallest builidings, and with it's 17 floors the view is spectacular. You can view the city center, the Ofot Fjord, the mountain "The Sleeping Queen" and all the surrounding mountains.
Hotel
Distance: 756 meters
Thon Hotel Narvik is a full service 4 star hotel and neighbour to the gondola that brings you up to the most beautiful view over Narvik, Ofotfjorden and the surrounding mountains.
Hotel
Distance: 279 meters
Welcome to Quality Hotel Grand Royal, a full-service conference hotel situated in the heart of Narvik, and known for its great personal service.