Peer Gynt National Theater
Arena/Place:
Category:
Events, Theatre / Show
Experience Anders Baasmo as Peer Gynt in Ibsen's masterpiece!
The National Theater brings together some of the country's best actors in a brand new version of Peer Gynt. Director Ole Anders Tandberg looks closely at the people in Ibsen's masterpiece. What happens to our perception of Peer Gynt when we get close, at home in Peer's kitchen? Who was he really like, and why did he always flee from himself?
Date

Time

Arena/Place

Friday 9 oct 2020
7:00 PM

- 8:30 PM
Price information
Ordinary kr.420,- Senior kr.335,- //Credentials must be presented Youth under 30 år kr. 150,- // Credentials must be presented Coop , max 4 tickets, kr.320,- OMT bbl, max 4 tickets, kr.335,- Partner RT, kr.335,-
Hotel
Distance: 757 meters
Thon Hotel Narvik is a full service 4 star hotel and neighbour to the gondola that brings you up to the most beautiful view over Narvik, Ofotfjorden and the surrounding mountains.
Hotel
Distance: 281 meters
Welcome to Quality Hotel Grand Royal, a full-service conference hotel situated in the heart of Narvik, and known for its great personal service.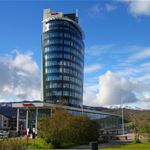 Hotel
Distance: 186 meters
Scandic Narvik is the newest hotel in the city, it opened 1st of March 2012. The hotel is one of Northern Norway's tallest builidings, and with it's 17 floors the view is spectacular. You can view the city center, the Ofot Fjord, the mountain "The Sleeping Queen" and all the surrounding mountains.