Gïedtine - who owns the wind? Nordland Theater
Arena/Place:
Category:
Events, Theatre / Show
Date: Saturday 3 oct 2020
Gïedtine - who owns the wind? is a wonderful, painful, fun and romantic ensemble production with theatrical and colorful storytelling.
Our story starts in the shadow of such an expansion. We are quickly moving back in time, to a place where warmth and consideration are luxury goods, and truth can be bought and sold on the market.
It is a story of hope and love in a world of arrogance and greed.
But above all, it's about justice.
Who really owns the wind?
Date

Time

Arena/Place

Saturday 3 oct 2020
7:00 PM

- 8:00 PM
Price information
Ordinary kr. 270 - Honors kr. 220 - Student kr. 200, - Youth up to 20 years, kr. 130, - OMT-BBL kr.220,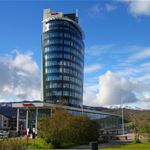 Hotel
Distance: 188 meters
Scandic Narvik is the newest hotel in the city, it opened 1st of March 2012. The hotel is one of Northern Norway's tallest builidings, and with it's 17 floors the view is spectacular. You can view the city center, the Ofot Fjord, the mountain "The Sleeping Queen" and all the surrounding mountains.
Hotel
Distance: 279 meters
Welcome to Quality Hotel Grand Royal, a full-service conference hotel situated in the heart of Narvik, and known for its great personal service.
Hotel
Distance: 757 meters
Thon Hotel Narvik is a full service 4 star hotel and neighbour to the gondola that brings you up to the most beautiful view over Narvik, Ofotfjorden and the surrounding mountains.