Førjulsdrøm concert in Sjømannskirka
Category:
Events, Christmas, Church / Church concerts, [...]
Date: Tuesday 22 dec 2020
On Tuesday December 22nd at 19.00, it's time for the traditional concert Førjulsdrøm in Sjømannskirka.
The popular pre-Christmas concert with Svein "Klasken" Hanssen, Cristina Andersen and Kristin Solberg has become a self-written highlight in the Advent season for many.
Together with them to create a special entrance to the Christmas holidays, they have, as usual, guitarist Johnny Kristiansen, pianist Bjørn Harald Larsen, Morten Brochs on bass/trumpet and Paul Steinar Samuelsen on percussion.
We take all precautions when it comes to infection control and can therefore safely take you through the evening. Everyone must sit at least 1 meter apart (unless you come from the same household), and it is very important that those who are going to sit together also buy tickets together. As there is a very limited ticket sale this year due to the corona situation, it is probably also a good idea to be out early.
Duration: 1 hour and 30 minutes, without break.
Welcome!
Date

Time

Arena/Place

Tuesday 22 dec 2020
7:00 PM

- 8:30 PM

Sjømannskirka
Prices from
300 NOK
Price information
Per person
Hotel
Distance: 918 meters
Welcome to Quality Hotel Grand Royal, a full-service conference hotel situated in the heart of Narvik, and known for its great personal service.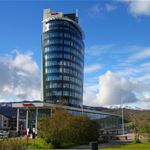 Hotel
Distance: 476 meters
Scandic Narvik is the newest hotel in the city, it opened 1st of March 2012. The hotel is one of Northern Norway's tallest builidings, and with it's 17 floors the view is spectacular. You can view the city center, the Ofot Fjord, the mountain "The Sleeping Queen" and all the surrounding mountains.
Lodge
Distance: 955 meters
Just 10 minutes from the city centre you can experience both ambiance and tranquillity. Narvik Mountain Lodge is located in Narvikfjellet approx. 300 metres above sea level. The lodge offers a homely atmosphere with stunning views of the city and the fjord.