Eva Weel Skram: Falle til ro - a Christmas concert
Arena/Place:
Category:
Events, Concerts, Nightlife
Date: Wednesday 9 dec 2020
Four years have passed since Eva Weel Skram released her first Christmas song, and in November she embarks on her first Christmas tour with carefully selected favorite songs. Audiences all over the country can expect an atmospheric evening with infectious mood and musical gems on a string.
One of Eva's first songs with Norwegian lyrics was "Selma's Song", which was the theme song for the NRK series "Snowfall". The song has long been included in the list of new Norwegian Christmas classics. Last year it was followed by "Falle til ro" which Eva wrote for the Netflix series "Hjem til jul" which was a huge success.

Eva's own ability to interpret other people's songs has been crystal clear to the Norwegian people since her participation in "Every time we meet", where she created her own hits of other people's hit songs such as "Forever owned - only a bad reputation" and "Talk a little".

After Skram went over to her mother tongue, she has toured the country, played on most of the country's culture houses and club and festival stages. She has also appeared on countless TV shows, both with her own songs, but also interpretations of Christmas songs such as Prøysen's "Romjulsdrøm" and Joni Mitchell's immortal "The River".

As more and more Christmas songs crept into the live repertoire during the winter months, it felt more and more natural to embrace this format, put together her own selection of Christmas songs that mean a lot to Eva herself, and that obviously hit her audience wherever she plays. The result is the Christmas tour "Falle til ro", which lasts from mid-November to two days before Christmas. Welcome!
Date

Time

Arena/Place

Wednesday 9 dec 2020
7:30 PM

- 9:30 PM
Prices from
555 NOK
Price information
Per person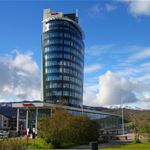 Hotel
Distance: 179 meters
Scandic Narvik is the newest hotel in the city, it opened 1st of March 2012. The hotel is one of Northern Norway's tallest builidings, and with it's 17 floors the view is spectacular. You can view the city center, the Ofot Fjord, the mountain "The Sleeping Queen" and all the surrounding mountains.
Hotel
Distance: 747 meters
Thon Hotel Narvik is a full service 4 star hotel and neighbour to the gondola that brings you up to the most beautiful view over Narvik, Ofotfjorden and the surrounding mountains.
Hotel
Distance: 285 meters
Welcome to Quality Hotel Grand Royal, a full-service conference hotel situated in the heart of Narvik, and known for its great personal service.