Nordland Teater: Eggs 'n Bakey
Arena/Place:
Category:
Events, Theatre / Show
Eggs 'n Bakey is a tribute to all the small and big, good and bad, moments in life. A tribute to love, hate, jealousy, joy, care, longing and pleasure. A tribute to the one who is there, and the one you long for. The one you may have had, but slipped right in front of your eyes. Playwright Rolf Kristian Larsen masterfully balances between humor, seriousness and satire when he portrays all the everyday things that together make up life.
The music in the performance is taken from Sondre Justad's discography. Justad is a Norwegian artist and songwriter from Henningsvær and Borg in Lofoten. He released his debut album "Riv i Hjertet" in October 2015 and has since captured chart tops, dance floors and peoples hearts across the country.

The playwright star Rolf Kristian Larsen (b. 1983) is perhaps best known for his roles in "Mannen Som Elsket Yngve", "Nobel", "Kampen om Tungtvannet" and "Heimebane". Eggs 'n Bakey is his fifth play as a playwright, from before he has also written l.i.f.e.g.o.e.s.o.n for Det Norske Teatret, and Solveig: .. peer aspera ad astra which premiered at Gålå, August 2019.

Suitable from 15 years and up.
Duration about 1 hour and 30 min.

Appearing on stage:
Line Heie Hallem
Sebastian Skytterud Myers
High Aga Gemstone
Produced by Vega Teater
Text: Rolf Kristian Larsen

Music by: Sondre Justad
Directed by: Kjell Moberg
Set design Even Børsum
Musical director: Bård Watn
Lighting design: Oscar Udbye
Mask and hair: Eva Sharp
Producer: Marianne Siljuberg
Prompter: Thea Marion Aasen
Market: Ida Johannessen
Photography, video and design: Magnus Owe and Erika Hebbert
Press photo Sondre and Rolf Kristian: Johnny Vaet Nordskog promo picture
The play has been developed with support from Dramatikkens hus.
Date

Time

Arena/Place

Sunday 8 nov 2020
7:00 PM

- 9:00 PM
Prices from

325 NOK

Price information

Per person

Ordinær NOK 325 Student og scenekort NOK 250 Honnør NOK 260 OMT-BBL NOK 280 Ungdom NOK 150
Hotel
Distance: 286 meters
Welcome to Quality Hotel Grand Royal, a full-service conference hotel situated in the heart of Narvik, and known for its great personal service.
Hotel
Distance: 747 meters
Thon Hotel Narvik is a full service 4 star hotel and neighbour to the gondola that brings you up to the most beautiful view over Narvik, Ofotfjorden and the surrounding mountains.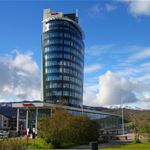 Hotel
Distance: 179 meters
Scandic Narvik is the newest hotel in the city, it opened 1st of March 2012. The hotel is one of Northern Norway's tallest builidings, and with it's 17 floors the view is spectacular. You can view the city center, the Ofot Fjord, the mountain "The Sleeping Queen" and all the surrounding mountains.