Tenorane and Steffen Horn
Arena/Place:
Category:
Events, Family, Christmas, [...]
Tenorane and Steffen Horn are ready for the latest edition of "Så ha ei god jul, då!" with completely new direction and lyrics by Tore Nysæther, they spread Christmas music all over the country in the run-up to Christmas.
The group, which consists of tenors Henrik Hundsnes, Aasmund Kaldestad and David Fielder, and pianist Steffen Horn, specializes in classical music with elements of humor and genre mix.

They have received rave reviews from the public since the start in 2011.

-We strive to sing mostly in Norwegian, but this year we have looked for some goodies from the classic Christmas tradition from Germany, Italy and France, says Aasmund Kaldestad

The program will also consist of well-known Christmas songs, newly written songs, Ave Maria, Panis Angelicus, and of course "O helga natt".
Date

Time

Arena/Place

Sunday 22 nov 2020
8:00 PM

- 9:00 PM
Prices from

375 NOK

Price information

Per person

Ordinary NOK 415 Honorary/student NOK 375 OMT-BBL NOK 375
Hotel
Distance: 746 meters
Thon Hotel Narvik is a full service 4 star hotel and neighbour to the gondola that brings you up to the most beautiful view over Narvik, Ofotfjorden and the surrounding mountains.
Hotel
Distance: 283 meters
Welcome to Quality Hotel Grand Royal, a full-service conference hotel situated in the heart of Narvik, and known for its great personal service.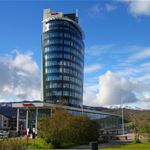 Hotel
Distance: 182 meters
Scandic Narvik is the newest hotel in the city, it opened 1st of March 2012. The hotel is one of Northern Norway's tallest builidings, and with it's 17 floors the view is spectacular. You can view the city center, the Ofot Fjord, the mountain "The Sleeping Queen" and all the surrounding mountains.