SWINGING CHRISTMAS with Tora & Julie Dahle Aagård and Hærens musikkorps
Arena/Place:
Category:
Events, Family, Christmas, [...]
Date: Saturday 28 nov 2020
This year, the Norwegian Army Band has the great pleasure of presenting the sisters Julie and Tora Dahle Aagård as their guest artists.
With two "trøndere" on the team, at least "Itj Sant Ja Baby" will be on the set list.
Julie knows the band well from previous collaborations, including in 2016 with the Sparkling Diamonds tour. Julie is one of Norway's hidden treasures, but anyone who has heard her sing is fascinated from the first note.
Julie's younger sister, Tora, is described as a promising world-class guitarist, with irresistible passion and glowing energy. She has already played with both Frode Alnæs, Paul Gilbert and Jennifer Batten (Michael Jackson's guitarist). When John Mayer visited Norway, Tora played with his drummer Aaron Sterling and she has also entered the stage in the Royal Albert Hall itself during The Norwegian Blues Adventure. She is not only driving on the guitar, she also owns the song as an instrument, preferably in the genre blues.
NB! Press the ticket button quickly. We are only allowed to sell 200 tickets.
Just look forward to Christmas!

Friday, November 20 at 19:00 Kulturfabrikken, Sortland
Saturday, November 21 at 18:00 Harstad culture house
Friday 27 November The Brigade Commander's Christmas concert, Istindportalen
Saturday 28 November at 18:00 Narvik culture house
Tuesday 8 December Head of FOH's Christmas concert, Stormen Bodø
Date

Time

Arena/Place

Saturday 28 nov 2020
6:00 PM

- 8:00 PM
Prices from

290 NOK

Price information

Per person

Ordinary NOK 390 Army employees NOK 325 (NB! Valid identification must be presented) Forsvarsmusikkens venner NOK 290 (NB! Membership card must be presented) Groups min.10 people NOK 290 per pers OMTBBL NOK 340 (NB! Membership card must be presented)
Hotel
Distance: 747 meters
Thon Hotel Narvik is a full service 4 star hotel and neighbour to the gondola that brings you up to the most beautiful view over Narvik, Ofotfjorden and the surrounding mountains.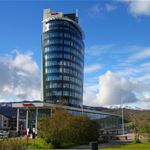 Hotel
Distance: 182 meters
Scandic Narvik is the newest hotel in the city, it opened 1st of March 2012. The hotel is one of Northern Norway's tallest builidings, and with it's 17 floors the view is spectacular. You can view the city center, the Ofot Fjord, the mountain "The Sleeping Queen" and all the surrounding mountains.
Hotel
Distance: 283 meters
Welcome to Quality Hotel Grand Royal, a full-service conference hotel situated in the heart of Narvik, and known for its great personal service.