Hålogaland Teater: Bare Bremnes - streamed
Arena/Place:
Category:
Events, Family, Concerts, [...]
Date: Saturday 7 nov 2020
Bare Bremnes is a tribute to the Bremnes siblings' fantastic song material, interpreted by a bunch of Northern Norwegian artists.
Hålogaland Teater unfortunately does not have the opportunity to go on tour with this performance and has therefore offered us to show it digitally on the big screen in the Theater Hall.

This concert performance is a journey into today's Northern Norwegian cultural heritage, but it is also a story about life. As simple and as complicated, as beautiful and as fragile as only the Bremnes family can convey.

"In the beginning, it's about being,
then it's about being somewhere else.
Then it's about coming home. "

- Kari Bremnes

Director: Ivar Tindberg (has previously staged In Shiny Brass, Amadeus, and A Christmas Adventure at Hålogaland Theater)

On Stage:

Anna Karoline Bjelvin - actress
Anneli Drecker - actress
Johannes Winther Farstad - Musical director and actor
Jardar Johansen - actor
Kristian Kristensen - actor
Karen Gamst Nergård - actress
Iren Reppen - actor
Margrete Smith-Meyer - actress
Ole Jakob Larsen - musician
Ole-Morten I.Lekang - musician and conductor
Svein Schultz - musician
Henrik Skog - musician

Duration 1 hour and 30 min - no break
Date

Time

Arena/Place

Saturday 7 nov 2020
7:00 PM

- 9:00 PM
Prices from
120 NOK
Price information
Per person
Hotel
Distance: 746 meters
Thon Hotel Narvik is a full service 4 star hotel and neighbour to the gondola that brings you up to the most beautiful view over Narvik, Ofotfjorden and the surrounding mountains.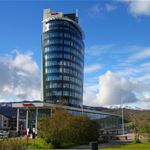 Hotel
Distance: 180 meters
Scandic Narvik is the newest hotel in the city, it opened 1st of March 2012. The hotel is one of Northern Norway's tallest builidings, and with it's 17 floors the view is spectacular. You can view the city center, the Ofot Fjord, the mountain "The Sleeping Queen" and all the surrounding mountains.
Hotel
Distance: 285 meters
Welcome to Quality Hotel Grand Royal, a full-service conference hotel situated in the heart of Narvik, and known for its great personal service.