New Year's Concert with The Norwegian Army Band
Arena/Place:
Category:
Events, Concerts
Opera singer Adrian Angelico, comedian Vidar Magnussen and conductor Christan Eggen are the star team that together with The Norwegian Army Band will start off the cultural year of 2021.
Tromsø resident Adrian Angelico made many hearts proud when he combined sami joik with classical singing in the TV series Muitte Mu. Angelico has specialized in, so-called, trouser roles in the mezzo-hire and his international career has gained momentum. He has already sung in Greece, USA, China, England, Germany, Italy and France as well as Scandinavia. These days he is waiting to make guest appearances at the Staatsoper Berlin, English National Opera in London and the Royal Theater in Copenhagen. and the Composer in Ariadne auf Naxos by Richard Strauss. The classic website Bachtrack in London wrote the following: "He sang with an intense idealism. His voice is ideally suited for Strauss' trouser roles, with a burnished chest register and a gleaming top. " His voice is described as clear, lyrical, bold and flexible.

This year's host, Vidar Magnussen, is particularly well known from NRK's ​​situation comedy «Side og side» and «Entertainment department». He probably knows tomorrow's audience members best as the scary Ole Winter from the Christmas calendar «Snøfall».
With his easily recognizable Bergen dialect, he has taken Norway by storm and is an unparalleled multi-talent. In addition to being on the theater stage and playing in a number of TV series, he has directed one of the greatest Norwegian musical successes of all time, The Book of Mormon. What he can come up with during this year's edition of the New Year's concert we hardly dare to predict, but the program council in the Army's music corps is already sitting with cramps in their laughter muscles and acknowledges that this can quickly become fun.
The conductor, composer and pianist Christian Eggen is one of the most influential figures in Norwegian music. His activities include contemporary music, cross-genre projects, installations, drama productions for radio and television, film, theater, jazz, opera and classical music. He has done several projects in collaboration with the Armed Forces' music. He last visited the Army's music corps during the Ilios Festival last year together with Kari Slaatsveen and the production But the sun will at least return.
For a full 27 years, the Army Music Corps' traditional New Year's concert has been held at the beginning of January. It all started in Harstad culture house in 1994 and as several places announced their interest, it has become a New Year's tour. Harstad, Narvik and Sortland will be visited in 2021, and we will of course take into account the corona's limitations.
Soloist: Adrian Angelico
Host: Vidar Magnussen
Conductor: Christian Eggen
Saturday 9 January at 18:00 - Harstad culture house
Saturday 9 January at 20:30 - Harstad culture house
Friday, January 15 at 19:00 - Narvik culture house
Saturday 16 January at 18:00 - Kulturfabrikken, Sortland
Date

Time

Arena/Place

Friday 15 jan 2021
7:00 PM

- 9:00 PM
Prices from

400 NOK

Price information

Per person

Ordinary NOK 400 Army employees NOK 350 (Valid identification must be presented) Friends of the Army Music NOK 300 (Membership card must be presented) Youth NOK 200 OMTBBL NOK 350 (Membership card must be presented)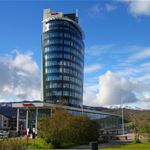 Hotel
Distance: 183 meters
Scandic Narvik is the newest hotel in the city, it opened 1st of March 2012. The hotel is one of Northern Norway's tallest builidings, and with it's 17 floors the view is spectacular. You can view the city center, the Ofot Fjord, the mountain "The Sleeping Queen" and all the surrounding mountains.
Hotel
Distance: 282 meters
Welcome to Quality Hotel Grand Royal, a full-service conference hotel situated in the heart of Narvik, and known for its great personal service.
Hotel
Distance: 744 meters
Thon Hotel Narvik is a full service 4 star hotel and neighbour to the gondola that brings you up to the most beautiful view over Narvik, Ofotfjorden and the surrounding mountains.