Free Christmas Concert "Hjerterom i adventstid"
Arena/Place:
Category:
Events, Christmas, Church / Church concerts, [...]
On Sunday 20 December at 5.30 pm and 7.30 pm, Marianne Gjertsen and Cristina Andersen will repeat the success from last year and invite you to a free Christmas concert in Misjonskirka.
Christmas is not always easy for everyone. We therefore want to "give away" a Christmas concert to those who might need it. There will be some traditional Christmas songs and some other new, hidden treasures that deserve to come to light.
With them on the team, they have gathered several great musicians; Kristian Arntsen on keyboards, Kristoffer Eide on guitar, Roy Espen Olsen on bass and Christian Senning Andersen on drums. Tor Erik Simonsen spices it all up with sound and light.
The doors will open one hour before the concert starts.
We take all precaution regarding infection control so that it will be safe for the public to attend, this currently means 50 pcs per concert.
We hope with this that we can spread some love and peace in the hearts of everyone.
Welcome!
Date

Time

Arena/Place

Sunday 20 dec 2020
5:30 PM

- 6:30 PM

Sunday 20 dec 2020
7:30 PM

- 8:30 PM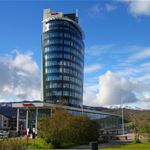 Hotel
Distance: 270 meters
Scandic Narvik is the newest hotel in the city, it opened 1st of March 2012. The hotel is one of Northern Norway's tallest builidings, and with it's 17 floors the view is spectacular. You can view the city center, the Ofot Fjord, the mountain "The Sleeping Queen" and all the surrounding mountains.
Hotel
Distance: 684 meters
Thon Hotel Narvik is a full service 4 star hotel and neighbour to the gondola that brings you up to the most beautiful view over Narvik, Ofotfjorden and the surrounding mountains.
Hotel
Distance: 196 meters
Welcome to Quality Hotel Grand Royal, a full-service conference hotel situated in the heart of Narvik, and known for its great personal service.