Sånn æ ser det! Av og med Pål Riise
Arena/Place:
Category:
Events, Theatre / Show
SÅNN Æ SER DET! is the title of the stand-up show to Riise's considerations and self-declared final answers over small and large things in life. His squint at the world can, as is well known, give the strangest and most entertaining results when he is released to his audience. You do not even have to agree with him. We can guarantee that it will be incredibly fun no matter what. The king of humor in Finnmark is finally coming to Narvik Kulturhus to have his show in Mørkholla.
SÅNN Æ SER DET! A performance by, about, and with Pål Riise. The man with more answers than there are questions is back… .. !! In recent years, comedian Pål Riise has really established himself as one of the most famous humorists from our northernmost county. In recent years, he has entertained full houses with his one-man shows. This year's performance from Riise has been named Sånn Æ Ser Det, and according to the fun man himself, this particular performance was almost impossible to get around. He believes that he has already for years shared generously of his enormous wisdom and his definitive answers to the people. For years, Pål has given answers to things you did not even know you were wondering about. Everything from the length of Lambi's toilet paper, via the number of meters of table sticks in a bag, to suitable cooking time for Freia's Easter eggs and not least the Shaman song and Stay at home.

With this year's performance, we have in a way reached the last page of this chapter, and the answers will now be checked against the conclusion that is on the last page. Fortunately, you do not have to turn your head up / down to get it with you. Pål intends to present it to you in a familiar style via a microphone, so that you can not avoid getting the curiosity. So if you are wondering what is really the solution to today's small and big world problems, you should definitely catch this show. Pål Riise, the man with more answers than there are questions, finally presents SÅNN Æ SER DET!

The number of tickets is unfortunately limited this year, and they must be purchased in advance. It is therefore recommended to buy tickets well in advance of the performance.
Date

Time

Arena/Place

Friday 11 jun 2021
7:00 PM

- 9:00 PM
Prices from

325 NOK

Price information

Per person

Adult NOK 325 Senior & student NOK 275
Hotel
Distance: 282 meters
Welcome to Quality Hotel Grand Royal, a full-service conference hotel situated in the heart of Narvik, and known for its great personal service.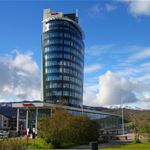 Hotel
Distance: 183 meters
Scandic Narvik is the newest hotel in the city, it opened 1st of March 2012. The hotel is one of Northern Norway's tallest builidings, and with it's 17 floors the view is spectacular. You can view the city center, the Ofot Fjord, the mountain "The Sleeping Queen" and all the surrounding mountains.
Hotel
Distance: 746 meters
Thon Hotel Narvik is a full service 4 star hotel and neighbour to the gondola that brings you up to the most beautiful view over Narvik, Ofotfjorden and the surrounding mountains.