Dansearena Nord: Groove
Arena/Place:
Category:
Events, Theatre / Show
Date: Saturday 11 sep 2021
We live within rhythms. With the breath, the heart and in our running steps. This is also the starting point for Groove, which is a dance performance, a concert and an enthusiastic band all in one! Five contemporary dancers, one drummer and 16 drummers take the stage to playfully examine the basic instinct man has for rhythm or groove. It is the feeling that occurs in the body when you hear music that makes you unable to sit still or see a movement you just have to try for yourself.
The background for the play is the initiators Marianne Kjærsund and Elisabeth Nesset's interest in what groove can be, together with the team's enthusiasm for playing drums. How to feel a rhythm by playing it can also be manifested as movement. The performance is structured as a live concert with a number of songs, which have been created through improvisation with dance and drums. All material, both movement and sound, is based on each individual's personal feeling of just groove.

The basic idea behind the performance is that rhythm and movement are something universal. It is something that works across age groups and backgrounds, where moving together to the same rhythm can be an inexhaustible source of energy and joy. The work also challenges what musicality can be, and how the individual's musicality and rhythm affect the community. The performance offers a generous musical presence, where it can be tempting for both young and old to step on the beat and join.

Quotation
"The beautiful and positive dance feels like a celebration of life itself."
- Folkebladet

Cast
Idea and concept: Marianne Kjærsund
Musical direction: Elisabeth Nesset
Performers: Elisabeth Nesset, Maja Roel, Gry Bech-Hanssen, Pernille Holden, Katja Schia and Marianne Kjærsund
Costume: Tatjana Andreeva
Illustration: Katja Schia
Date

Time

Arena/Place

Saturday 11 sep 2021
6:00 PM

- 7:00 PM
Prices from

250 NOK

Price information

Per person

Ordinary ticket NOK 250 Children under 16 y/o NOK 50 Companion discount against valid certificate
Hotel
Distance: 747 meters
Thon Hotel Narvik is a full service 4 star hotel and neighbour to the gondola that brings you up to the most beautiful view over Narvik, Ofotfjorden and the surrounding mountains.
Hotel
Distance: 281 meters
Welcome to Quality Hotel Grand Royal, a full-service conference hotel situated in the heart of Narvik, and known for its great personal service.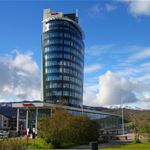 Hotel
Distance: 184 meters
Scandic Narvik is the newest hotel in the city, it opened 1st of March 2012. The hotel is one of Northern Norway's tallest builidings, and with it's 17 floors the view is spectacular. You can view the city center, the Ofot Fjord, the mountain "The Sleeping Queen" and all the surrounding mountains.