Operation Theater - Detective Agency no.2
Arena/Place:
Category:
Events, Theatre / Show, Visit Norway, [...]
Date: Wednesday 3 nov 2021
Children in Norway love the books about Detective Agency no. 2 by crime writer Jørn Lier Horst. Now there will be a theater for the whole family where Tiril, Oliver and the dog Åtto must solve a whole new mystery!
Operation Theater is a new assignment for Detective Agency No. 2. A mystery that can only be experienced when the National Theater comes to Narvik Culture House. For what really happens when the National Theater comes to Elvestad to play the performance Hamlet?

Why have there been mysterious accidents throughout the tour? Is the theatrical performance cursed or is someone sabotaging? Join Tiril, Oliver and Åtto on an exciting mystery in the theater's magical world.

We look forward to seeing you in the theater! If you want, you can dress up in your very own theatrical costume when you get to the theater.

Suitable for children from 5 years.

On stage
Maria Agwumaro, Lars Halvor Andreassen, Janne Starup Bønes, Amalie Ibsen Jensen, Arjan Nilsen, Thomas Jørstad Pettersen and Amanda Hedvig Strand
Date

Time

Arena/Place

Wednesday 3 nov 2021
6:00 PM

- 9:00 PM
Prices from

275 NOK

Price information

Per person

Ordinary (child, adult, senior, student) NOK 275 Family (min.4 people) kr. 220, - per person Collaborators NOK 220 / maximum 4 tickets Coop kr. 215, - / max 4 tickets OMTBBL (max. 2 tickets per customer), NOK 220, -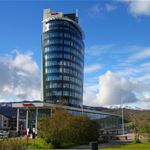 Hotel
Distance: 170 meters
Scandic Narvik is the newest hotel in the city, it opened 1st of March 2012. The hotel is one of Northern Norway's tallest builidings, and with it's 17 floors the view is spectacular. You can view the city center, the Ofot Fjord, the mountain "The Sleeping Queen" and all the surrounding mountains.
Hotel
Distance: 753 meters
Thon Hotel Narvik is a full service 4 star hotel and neighbour to the gondola that brings you up to the most beautiful view over Narvik, Ofotfjorden and the surrounding mountains.
Hotel
Distance: 294 meters
Welcome to Quality Hotel Grand Royal. As the largest hotel in the town, we have a lot of exciting history from the establishment of Narvik and World War II. We are located downtown with walking distance to the ski resort, shopping centers, restaurants, and museums. The shuttle bus to the airport stops right outside the hotel.