Writing Evening Campus Narvik
Category:
Events, Courses, Visit Norway, [...]
Date: Tuesday 26 oct 2021
We gather our best resources and prepare for Writing Evening for all writers at the library, campus Narvik.
There will be writing workshops, individual writing guidance, everything you wonder about search, source usage and EndNote and wonderful yoga. We also serve delicious coffee, tea, fruit and chocolate. Warm welcome!
Hotel
Distance: 520 meters
Welcome to Quality Hotel Grand Royal. As the largest hotel in the town, we have a lot of exciting history from the establishment of Narvik and World War II. We are located downtown with walking distance to the ski resort, shopping centers, restaurants, and museums. The shuttle bus to the airport stops right outside the hotel.
Hotel
Distance: 515 meters
Thon Hotel Narvik is a full service 4 star hotel and neighbour to the gondola that brings you up to the most beautiful view over Narvik, Ofotfjorden and the surrounding mountains.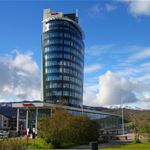 Hotel
Distance: 387 meters
Scandic Narvik is the newest hotel in the city, it opened 1st of March 2012. The hotel is one of Northern Norway's tallest builidings, and with it's 17 floors the view is spectacular. You can view the city center, the Ofot Fjord, the mountain "The Sleeping Queen" and all the surrounding mountains.