The New Year's concert
Arena/Place:
Category:
Events, Visit Norway, Concerts & Festivals, [...]
Adrian Angelico, Rune Andersen and the Army Music Corps
Opera singer Adrian Angelico, comedian Rune Andersen and conductor Christian Eggen are the star team that together with the Army's music corps will fire off the start of the cultural year 2022. At the beginning of 2021, the same star team was ready to sing into the year. That was until the pandemic put an end to all cultural events across the country. Therefore, it is an extra great pleasure to be able to say that in 2022 there will be a New Year's concert!

Here is some of what you can expect at this year's New Year's concert:
Norwegian-Sami mezzo-soprano Tromsø resident Adrian Angelico made many a northern Norwegian and Sami heart proud when he combined yoik with classical singing in the TV series Muitte Mu. Adrian has a significant career as a mezzo-soprano, both nationally and internationally. His voice is described as clear, lyrical, bold and flexible, and Adrian has already managed to sing in Greece, the USA, China, England, Germany, Italy and France as well as Scandinavia. Adrian has also made guest appearances at the Staatsoper Berlin, the English National Opera in London and the Royal Theater in Copenhagen. In Norway he had major roles as Octavian in Strauss' Rose Cavalier and Cherubino in Figaro's wedding - just to name a few.

This year's presenter is Rune Andersen - the man with the thousand votes! There is not a single person he fails to parody with extraordinary empathy, precision and sting. Rune delivers hard-kicking, satirical and intelligent humor. His amazing ability to hit with perfect words or expressions at exactly the second has made him a master of precision. Only a raised eyebrow can be enough for the spasm to start rolling. Recently, he has toured all over the country with the critically acclaimed performance "Lykkeliten", a sore and warm story like growing up with a violent father. Rune Andersen is unique and just has to be experienced! With years of experience from TV and radio and as many as five solo show successes on the conscience, there are few in this country who can match his qualities as a comedian, parody and entertainer.

The conductor, composer and pianist Christian Eggen is one of the most influential figures in Norwegian music. His activities include contemporary music, cross-genre projects, installations, drama productions for radio and television, film, theater, jazz, opera and classical music. Christian has done several projects in collaboration with the Armed Forces' music. He last visited the Army's music corps during the Ilios Festival last year together with Kari Slaatsveen and the production "But the sun will at least return".

For a full 27 years, the Army Corps' traditional New Year's concert has been held at the beginning of January, with the exception of 2021. It all started in Harstad Culture House in 1994 and as several places announced their interest, it has become a New Year's tour. Harstad, Narvik and Sortland will be visited in 2022, in addition to the Chief of the Army getting his New Year's concert at Bardufoss.
Date

Time

Arena/Place

Sunday 9 jan 2022
6:00 PM

- 7:30 PM
Prices from
425 NOK
Price information
Student and children under 18 years, NOK 220, - Ordinary ISK 425, - Forsvarsansatte (For ansatt) and Forsvarets Musikkvenner (Fors venn) - discounted prices as published directly.
Hotel
Distance: 742 meters
Thon Hotel Narvik is a full service 4 star hotel and neighbour to the gondola that brings you up to the most beautiful view over Narvik, Ofotfjorden and the surrounding mountains.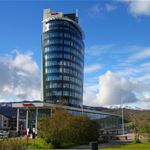 Hotel
Distance: 172 meters
Scandic Narvik is the newest hotel in the city, it opened 1st of March 2012. The hotel is one of Northern Norway's tallest builidings, and with it's 17 floors the view is spectacular. You can view the city center, the Ofot Fjord, the mountain "The Sleeping Queen" and all the surrounding mountains.
Hotel
Distance: 292 meters
Welcome to Quality Hotel Grand Royal. As the largest hotel in the town, we have a lot of exciting history from the establishment of Narvik and World War II. We are located downtown with walking distance to the ski resort, shopping centers, restaurants, and museums. The shuttle bus to the airport stops right outside the hotel.