Star sprinkle 5 December in Narvik Mission Church
Arena/Place:
Category:
Events, Christmas concerts and plays, Church / Church concerts
Finally, we can invite you to Stjernedryss again during Advent on Sunday 5 and 12 December at 11.00. Stjernedryss is a different Advent service for all ages with soloists, husband, children's choir, Christmas games, appeal, surprise for the children and guests from the city.
On the 5th of December, "today's shooting stars" guests are Vegard Johan Lind-Jæger and Vidar Eng and we collect money for projects that the Volunteer Center runs in the local community. There will also be church coffee, gingerbread and mulled wine and a guaranteed Christmas atmosphere. Welcome to a nice pre-Christmas Sunday in Narvik Mission Church :)
Date

Time

Arena/Place

Sunday 5 dec 2021
11:00 AM

- 12:00 PM
Hotel
Distance: 684 meters
Thon Hotel Narvik is a full service 4 star hotel and neighbour to the gondola that brings you up to the most beautiful view over Narvik, Ofotfjorden and the surrounding mountains.
Hotel
Distance: 195 meters
Welcome to Quality Hotel Grand Royal. As the largest hotel in the town, we have a lot of exciting history from the establishment of Narvik and World War II. We are located downtown with walking distance to the ski resort, shopping centers, restaurants, and museums. The shuttle bus to the airport stops right outside the hotel.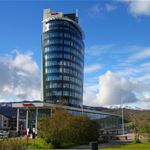 Hotel
Distance: 270 meters
Scandic Narvik is the newest hotel in the city, it opened 1st of March 2012. The hotel is one of Northern Norway's tallest builidings, and with it's 17 floors the view is spectacular. You can view the city center, the Ofot Fjord, the mountain "The Sleeping Queen" and all the surrounding mountains.