The Soul Of Christmas
Category:
Christmas concerts and plays, Church / Church concerts
With the concert The Soul Of Christmas, Care Gospel invites you into its musical Christmas gospel universe. The menu is tailored for you who want to lower your shoulders and be filled with Christmas joy. To the sound of sonorous melodic lines from a choir in harmony, with real soul and gospel style, you are served the most delicious dishes: From the famous close Norwegian Christmas songs in choral set-up, to gospel and soul dressed in powerful melodies and rhythms from some of the region's best musicians. to want to dance with.
We hope as many as possible will come to share the evening with us, shrug our shoulders and enjoy that the Christmas peace and Christmas are here again.
With us we have our fantastic band with conductor Kenneth Hammer on piano, Jørgen Enoksen on bass, Thomas Nordvik Olsen on guitar and Rudi André Brevik on percussion.
Fare; 250, - Adult
100, - Children under 16 years
Tickets can be purchased via Vipps on tel. 93682498
Name list in the door.
Welcome to a Christmas concert with Care Gospel in Narvik Church
December 6th
at 19:00!
Date

Time

Arena/Place

Monday 6 dec 2021
7:00 PM

- 9:00 PM

Narvik Church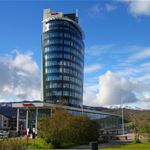 Hotel
Distance: 584 meters
Scandic Narvik is the newest hotel in the city, it opened 1st of March 2012. The hotel is one of Northern Norway's tallest builidings, and with it's 17 floors the view is spectacular. You can view the city center, the Ofot Fjord, the mountain "The Sleeping Queen" and all the surrounding mountains.
Hotel
Distance: 844 meters
Welcome to Quality Hotel Grand Royal. As the largest hotel in the town, we have a lot of exciting history from the establishment of Narvik and World War II. We are located downtown with walking distance to the ski resort, shopping centers, restaurants, and museums. The shuttle bus to the airport stops right outside the hotel.
Hotel
Distance: 1.4 km
Thon Hotel Narvik is a full service 4 star hotel and neighbour to the gondola that brings you up to the most beautiful view over Narvik, Ofotfjorden and the surrounding mountains.