The inspiration formula
Arena/Place:
Category:
Events, Lectures/Conferences/Meetings
Date: Wednesday 2 feb 2022
Do you want a new and exciting 2022? Get inspired and find your intentions for the new year together with Morten Nygård.
The inspiration formula - 9 keys to a richer life!
Inspiring all evening with Morten Nygård. In this show lecture, Morten gives you 9 keys to a richer life? Why are your relationships so different from yours and how do you use your life energy to develop yourself? His new book, "9 Life Energies" is being unpacked this evening, and can be purchased after the lecture at a reduced price.
Morten has worked with several thousand people. He practices daily what he teaches through meditation and relationship exercises. He is an icebreaker, author, speaker, supervisor and has a popular podcast on awareness. He has lost everything he owns twice in his life, without it ruining his night's sleep, and he has guided thousands in using his body to change his life. He has spent the night alone in the Pyramid of Cheops, gone on pilgrimages around the world both winter and summer with priests and monks, and he has sat on a mountain ledge at Kunst i Natur for a week without food.
Morten promises an uplifting evening where he teaches you to put your body in focus to live a richer life. The lecture is for you who want to become more aware and understand how your life energy affects your patterns and actions.

The evening lasts from 1800 - 2100, but you do not notice that it is currently lost in all the fine experiences.
Date

Time

Arena/Place

Wednesday 2 feb 2022
6:00 PM

- 9:00 PM
Prices from
375 NOK
Price information
220 - 375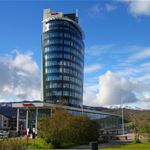 Hotel
Distance: 188 meters
Scandic Narvik is the newest hotel in the city, it opened 1st of March 2012. The hotel is one of Northern Norway's tallest builidings, and with it's 17 floors the view is spectacular. You can view the city center, the Ofot Fjord, the mountain "The Sleeping Queen" and all the surrounding mountains.
Hotel
Distance: 756 meters
Thon Hotel Narvik is a full service 4 star hotel and neighbour to the gondola that brings you up to the most beautiful view over Narvik, Ofotfjorden and the surrounding mountains.
Hotel
Distance: 279 meters
Welcome to Quality Hotel Grand Royal. As the largest hotel in the town, we have a lot of exciting history from the establishment of Narvik and World War II. We are located downtown with walking distance to the ski resort, shopping centers, restaurants, and museums. The shuttle bus to the airport stops right outside the hotel.