Flygel eller Fesk
Arena/Place:
Category:
Events, Concerts, Visit Norway, [...]
Date: Thursday 27 jan 2022
Finn Arve's orchestra trawls music history
What kind of instrument did the first northern Norwegian troubadour play where he sat on the shore, and what do Shakespeare and Banana Airlines have in common? And where do you find the world's worst music corps?

Since the autumn of 2018, Finn Arve Sørbøe and his wild excursion in music history have triggered musical cheers and laughter in the region's culture house. In Alta, local newspaper correspondents were contacted by audience members because they got sore ears (!) From 90 minutes of constant laughter from close range shots. Altaposten rolled a six after the performance in October 2021, and after playing for 20 full houses from Helgeland to Finnmark, the trip has now come to Narvik culture house, a house that was actually the scene of the very first edition of Flygel eller Fesk at Vinterfestuka in 2018 This year's performance has been expanded to include new material, but has retained the devilish gaze on all the world's music - and on us northerners. Finn Arve Sørbøe is accompanied by vocalist and actress Kristene Henriksen, and behind them a northern Norwegian star team of an orchestra.
As Altaposten put it in its review with dice roll six:
"With the 57-year-old from Tromsø at the helm of 7 professional musicians who formally burst into joy of playing after the pandemic break, the success was almost pre-programmed. "Flygel eller Fesk" is an unpretentious tour through music history from a northern Norwegian perspective, from suggestive Stone Age music to Sondre Justad ».

On stage:

Find Arve Sørbøe
Kristine Henriksen
Nils Anders Mortensen, piano.
Tor Johan Bøen, violin.
Knut Erik Sundquist, bass.
Anders Eriksson, trumpet.
Fred Glesnes, scissors.
Martien Lien, drums
Date

Time

Arena/Place

Thursday 27 jan 2022
7:00 PM

- 9:30 PM
Prices from
440 NOK
Price information
Regular kr. 440,- Student kr. 400,- Groups min.10, kr.400,- pr.person (Order direktly at Ticketmaster or Narvik Kulturhus)
Hotel
Distance: 756 meters
Thon Hotel Narvik is a full service 4 star hotel and neighbour to the gondola that brings you up to the most beautiful view over Narvik, Ofotfjorden and the surrounding mountains.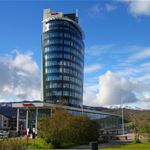 Hotel
Distance: 188 meters
Scandic Narvik is the newest hotel in the city, it opened 1st of March 2012. The hotel is one of Northern Norway's tallest builidings, and with it's 17 floors the view is spectacular. You can view the city center, the Ofot Fjord, the mountain "The Sleeping Queen" and all the surrounding mountains.
Hotel
Distance: 279 meters
Welcome to Quality Hotel Grand Royal. As the largest hotel in the town, we have a lot of exciting history from the establishment of Narvik and World War II. We are located downtown with walking distance to the ski resort, shopping centers, restaurants, and museums. The shuttle bus to the airport stops right outside the hotel.