STORMAN - Christina gives back
Arena/Place:
Category:
Events, Concerts, Visit Norway, [...]
The band STORMAN, formerly known as the Christina Remman Band, finally releases music after a couple of years of recording in Storø Studio in Bjerkvik.
The first six tasters are now available for download and streaming on browse. Spotify and iTunes. The song Du e den has already been played on NRK P1 Nordlandssendingen and is on the playlist there from the end of August. The other four songs come continuously and the album is in the pop-rock genre. The corona has delayed it all but also contributed inspiration. The band has chosen to change their name to STORMAN [Stårm´an], after the first song they worked on. It is also the first text Christina wrote in northern Norwegian.

Many may say that Storman is very descriptive of the theme of Christina's textual material. That it has stormed in her life, and especially in her upbringing, is well known. ADHD, acting out, anxiety, depression and intoxication have marked her. In her youth she began to play the guitar and make her own songs. Eventually, this was exactly what would prove to be what saved her from the most difficult time. She channeled the unrest here and gradually music became an increasingly important role in her life.

With this concert, Christina would like to thank everyone who has supported her in a difficult time and the profits from the concert go to Rus og psykiatri in Narvik.
Date

Time

Arena/Place

Friday 11 feb 2022
7:00 PM

- 9:00 PM
Prices from
275 NOK
Price information
Regular kr.275,- Senior and student kr.200,-
Hotel
Distance: 756 meters
Thon Hotel Narvik is a full service 4 star hotel and neighbour to the gondola that brings you up to the most beautiful view over Narvik, Ofotfjorden and the surrounding mountains.
Hotel
Distance: 279 meters
Welcome to Quality Hotel Grand Royal. As the largest hotel in the town, we have a lot of exciting history from the establishment of Narvik and World War II. We are located downtown with walking distance to the ski resort, shopping centers, restaurants, and museums. The shuttle bus to the airport stops right outside the hotel.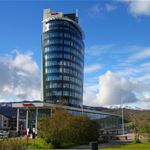 Hotel
Distance: 188 meters
Scandic Narvik is the newest hotel in the city, it opened 1st of March 2012. The hotel is one of Northern Norway's tallest builidings, and with it's 17 floors the view is spectacular. You can view the city center, the Ofot Fjord, the mountain "The Sleeping Queen" and all the surrounding mountains.