Hedda Gabler
Arena/Place:
Category:
Events, Theatre / Show, Visit Norway, [...]
What is it about Hedda Gabler that becomes dangerous for herself and everyone she surrounds herself with?

Hedda and Jørgen Tesman have just moved into their new home after a six-month honeymoon. Jørgen finally thinks he has succeeded in life - villa in the best part of the city, bright career prospects - and the legendary general daughter Hedda Gabler as a life partner. Who knows, maybe there will be children soon too?
Life also seems to have settled for Hedda. She has finally chosen the same life path as most others, and congratulations are pouring in from near and far. But inside, an ever-increasing chasm grows between the feelings and thoughts that the environment expects of her - and what she actually thinks and feels.

Hedda Gabler is one of Henrik Ibsen's most complex characters. About the existential drama, he himself wrote that «With Hedda, deep poetry lies at the bottom. But the surroundings scare her. Think of yourself as ridiculous. " Hedda Gabler has been interpreted and tried to be understood all over the world.

When director Fredrik Longva sets up the classic for the National Theater, he wants to find out who Hedda is: «What makes a person do the things Hedda does? What makes us humans destructive - towards ourselves and those around us? These are questions that we really should ask much more than we do. There I experience that the theater has a unique position in society. Because we can ask questions without necessarily having the answers ».

On stage
Ingrid Unnur Giæver, Khalid Mahamoud, John Emil Jørgensrud, Kristine Hartgen and Eivin Nilsen Salthe

Team
Director: Fredrik Longva, Set designer: Katja Ebbel Frederiksen, Costume designer: Solveig Holthe Bygdnes, Lighting designer: Martin Myrvold, Composer: Hanne Hukkelberg, Sound designer: Amund Ulvestad and Producer: Silje Vigerust Vinjar

By Henrik Ibsen

Performance length: 1 hour 40 minutes (no break).

Premiere: Oslo / Nydalen 27 Jan 2022

Produced by Riksteatret

Riksteatret's review: www.riksteatret.no/hedda-gabler
Date

Time

Arena/Place

Tuesday 8 feb 2022
7:00 PM

- 8:40 PM
Prices from

335 415

Price information

NOK

Regular kr. 415,- Senior and partner kr. 335,- Under 30 years old, kr.170,-
Hotel
Distance: 279 meters
Welcome to Quality Hotel Grand Royal. As the largest hotel in the town, we have a lot of exciting history from the establishment of Narvik and World War II. We are located downtown with walking distance to the ski resort, shopping centers, restaurants, and museums. The shuttle bus to the airport stops right outside the hotel.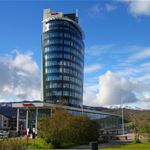 Hotel
Distance: 188 meters
Scandic Narvik is the newest hotel in the city, it opened 1st of March 2012. The hotel is one of Northern Norway's tallest builidings, and with it's 17 floors the view is spectacular. You can view the city center, the Ofot Fjord, the mountain "The Sleeping Queen" and all the surrounding mountains.
Hotel
Distance: 756 meters
Thon Hotel Narvik is a full service 4 star hotel and neighbour to the gondola that brings you up to the most beautiful view over Narvik, Ofotfjorden and the surrounding mountains.