Simplicissimus - Theater Corpus
Arena/Place:
Category:
Events, Theatre / Show, Visit Norway, [...]
Date: Wednesday 9 feb 2022
The Puppet Theater presents Simplicissimus by Theater Corpus.

When humor becomes bloody serious.

At the beginning of the last century, the German satire magazine "Simplicissimus" was a red cloth for the emperor, the church and the authorities. The magazine gathered several of Europe's greatest writers and cartoonists who harassed the authorities. Several of them with ties to Norway, such as Thomas Theodor Heine and Olaf Gulbransson. But when Hitler came to power, satire became really dangerous, and the artists had to choose: the joke or the life?
Simplicissimus is a tribute to the free press and the political satire that is still under pressure worldwide. Meet satirists, Nazis, Josephine Baker, a polar bear and dancing pencils in a strong mix of acting, puppetry and newly written music!

Tormod Lindgren, Knut Nærum, POING, Maja S. K. Ratkje, the puppet theater company TheaterCorpus and Teater Innlandet have in collaboration created a musical and humorous history lesson about satire as a weapon.

By Knut Nærum and Tormod Lindgren

Duration: 2 hours and 30 minutes incl. Break

Idea, direction, scenography, figure and costume design: Tormod Lindgren

Playwrights: Knut Nærum and Tormod Lindgren

Composer: Maja S. K. Ratkje and POING (Frode Haltli, Rolf-Erik Nystrøm, Håkon Thelin)

Performers: Tom Stian Lennesvik, Dominika Minkacz-Sira, Geir Robsrud, Ragni Halle and Thomas Hildebrand

Lighting design: Olav Nordhagen

Musicians: Maja S. K. Ratkje and POING
Figure makers: Tormod Lindgren with Thale Kvam Olsen and Steinar Kaarstein

Playwrights and translators: Tormod Lindgren, Christina Just, Selma Lindgren, Thomas Raff and Jørgen Strickert
Manufacturers:
Theater Corpus: Tormod Lindgren and Camilla Svingen / Seven miles
Teater Innlandet: Kari Dæhlin

Co-production with Teater Innlandet, supported by Figurteatret in Nordland

Supported by:
Norwegian Cultural Council, Fund for Sound and Vision, Dramatikkens Hus, Dramatikerforbundet, Stikk. The Copywriters' Fund, The Puppet Theater in Nordland, Spenn, Fritt Ord, FFUK, Oslo Municipality
Date

Time

Arena/Place

Wednesday 9 feb 2022
7:00 PM

- 8:30 PM
Prices from
200 NOK
Price information
Regular kr. 200,- Senior, student and adults under 30, kr. 150,-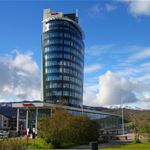 Hotel
Distance: 188 meters
Scandic Narvik is the newest hotel in the city, it opened 1st of March 2012. The hotel is one of Northern Norway's tallest builidings, and with it's 17 floors the view is spectacular. You can view the city center, the Ofot Fjord, the mountain "The Sleeping Queen" and all the surrounding mountains.
Hotel
Distance: 279 meters
Welcome to Quality Hotel Grand Royal. As the largest hotel in the town, we have a lot of exciting history from the establishment of Narvik and World War II. We are located downtown with walking distance to the ski resort, shopping centers, restaurants, and museums. The shuttle bus to the airport stops right outside the hotel.
Hotel
Distance: 756 meters
Thon Hotel Narvik is a full service 4 star hotel and neighbour to the gondola that brings you up to the most beautiful view over Narvik, Ofotfjorden and the surrounding mountains.