Flea Market
Arena/Place:
Category:
Events, Family, Events, [...]
Date: Saturday 21 may 2022
- Sunday 22 May 2022
Finally we are ready again! We are betting that both Korona and Putin will stay calm, and that we can finally, after 2 years, hold a long-awaited flea weekend at Blåskola!
We fill up the attic and we fill up tents outside, here there will be nothing to say about the selection.
On the ground floor, we fill up with our "famous" cakes, and the coffee is brewing and the soda is cooled. There is something for everyone. Until the flea weekend, we will give you photos and glimpses from the selection on Blåskola's Facebook page, so stay tuned.
We hope that you will help us to invite / tell about our event to friends and acquaintances. Maybe the neighbor did not get it? Remember cash! The money goes in full to further restoration of Blåskola and to beautify the surrounding area.
We are really looking forward to seeing you all again. WELCOME
Date

Time

Arena/Place

Saturday 21 may 2022
11:00 AM

- 9:00 PM

Sunday 22 may 2022
9:00 AM

- 7:00 PM
Accommodation
Distance: 33.4 km
Camp 291 is a new and modern accommodation offer consisting of 9 design cabins located undisturbed in Narvikfjellet. The cabins and the Camp Lodge will together form the basis for fantastic nature experiences all year round. Camp 291 is ready for its first guests in January 2022.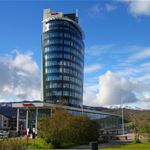 Hotel
Distance: 33.1 km
Scandic Narvik is the newest hotel in the city, it opened 1st of March 2012. The hotel is one of Northern Norway's tallest builidings, and with it's 17 floors the view is spectacular. You can view the city center, the Ofot Fjord, the mountain "The Sleeping Queen" and all the surrounding mountains.
Lodge
Distance: 33.3 km
Just 10 minutes from the city centre you can experience both ambiance and tranquillity. Narvik Mountain Lodge is located in Narvikfjellet approx. 300 metres above sea level. The lodge offers a homely atmosphere with stunning views of the city and the fjord.