Party Premiere - Top Gun: Maverick. Age Limit 18 years due to alcohol served.
Category:
Events, Theatre / Show, Visit Norway, [...]
Date: Wednesday 25 may 2022
Then we can FINALLY invite to the party premiere, red carpet and bubbles!
Wednesday 25 May is the date and the movie is the long awaited Top Gun: Maverick.
The tickets are already on sale, so just secure your ticket. This is guaranteed to be epic
Tom Cruise returns as Maverick in Top Gun
The fearless fighter pilot Pete "Maverick" Mitchell is back! After thirty years of service as a top pilot in the US Navy, Maverick is exactly where he wants to be. He has turned down a career on the ground with a higher rank, in favor of soaring high and breaking boundaries as a test pilot.
But when Maverick is given the task of training a new group of young Top Gun pilots in front of a special mission, he also encounters ghosts from the past. One of the pilots is Bradley Bradshaw (Miles Teller), son of Maverick's deceased friend Nick "Goose" Bradshaw. Maverick must now confront his deepest fears, while preparing for a mission that no pilot has ever seen before.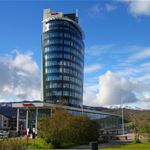 Hotel
Distance: 215 meters
Scandic Narvik is the newest hotel in the city, it opened 1st of March 2012. The hotel is one of Northern Norway's tallest builidings, and with it's 17 floors the view is spectacular. You can view the city center, the Ofot Fjord, the mountain "The Sleeping Queen" and all the surrounding mountains.
Accommodation
Distance: 1.3 km
Camp 291 is a new and modern accommodation offer consisting of 9 design cabins located undisturbed in Narvikfjellet. The cabins and the Camp Lodge will together form the basis for fantastic nature experiences all year round. Camp 291 is ready for its first guests in January 2022.
Hotel
Distance: 803 meters
Thon Hotel Narvik is a full service 4 star hotel and neighbour to the gondola that brings you up to the most beautiful view over Narvik, Ofotfjorden and the surrounding mountains.