Christel Alsos - I den kalde vinter
Arena/Place:
Category:
Events, Concerts, Visit Norway, [...]
Date: Saturday 3 dec 2022
"For me, doing Christmas concerts has always been associated with feeling a little more skinless than at any other time of the year. Christmas strengthens and enlarges our lives. Still, there is no doubt that this year's tour will be extra special and I am incredibly happy that we get the opportunity to conduct these concerts. I think we all need that now, to gather around our common stories and traditions ".
In 2013, Christel Alsos released the release of the critically acclaimed Christmas album "I den kalde vinter" in 2013. A warm, heartfelt and beautiful Christmas album.
The album received a new addition in 2017 with the self-written song, 'December'. Her first release in Norwegian. The song is about coming home to something or someone you love, a theme that is personally central to the life of the young woman behind the big voice from the north.
In 2022, as many as 16 cities will be visited by Christel Alsos.
With her on stage are percussionist Andreas Bye, guitarist Marius Graff, Jo Berger Myhre as bassist, violinist Lise Voldsdal Sørensen and pianist Andreas Löwe
Date

Time

Arena/Place

Saturday 3 dec 2022
7:00 PM

- 9:00 PM
Accommodation
Distance: 1.2 km
Camp 291 is a new and modern accommodation offer consisting of 9 design cabins located undisturbed in Narvikfjellet. The cabins and the Camp Lodge will together form the basis for fantastic nature experiences all year round. Camp 291 is ready for its first guests in January 2022.
Hotel
Distance: 756 meters
Thon Hotel Narvik is a full service 4 star hotel and neighbour to the gondola that brings you up to the most beautiful view over Narvik, Ofotfjorden and the surrounding mountains.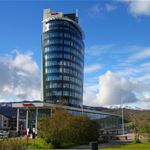 Hotel
Distance: 188 meters
Scandic Narvik is the newest hotel in the city, it opened 1st of March 2012. The hotel is one of Northern Norway's tallest builidings, and with it's 17 floors the view is spectacular. You can view the city center, the Ofot Fjord, the mountain "The Sleeping Queen" and all the surrounding mountains.