Sverre // Berg 3 Scene, Bjerkvik
Category:
Events, Concerts, Visit Norway, [...]
Date: Saturday 29 oct 2022
"Solid, well-sounding and beautiful"
Sverre Stenersen is finally ready to take the step out as a mature solo artist. On stage, he excels with his confident nature, down-to-earth presence and is described as an artist who engages and surprises. In recent years, he has attracted a mature and discerning audience.
He is often described as an artist with a touch of "The War On Drugs" who flirts with "Mumford & Sons" on one side and "Foo Fighters" on the other. Sverre's robust guitar and honest vocals are enhanced with his regular band and offer an organic and warm soundscape.
Sverre releases his first album, "The Gemini" on September 23. The plate depicts growing up in a small village in inner Troms and the transition to adulthood in the big city. It is a story about how your own upbringing affects the upbringing of your own children and how far you want to go to not become an echo of your own story. The album "The Gemini" describes the time when you come in contact with yourself and have matured, you experience a new understanding of your own choices. And especially; one realizes that the unpredictability of life allows for forgiveness, even above oneself.
Songwriter, vocalist and guitarist Sverre Stenersen made his record debut in 1999 and so far has over 20 releases behind him. He has fronted several bands and has toured large parts of Norway in addition to several concerts abroad. Some of the highlights were the concerts in New York and Oulo.
Industry veteran Arild Rønsen wrote in his time about the release of the Diversion Blue album «Pleasureville» the following words for Puls: "And that day will come, I feel confident that Stenersen will come up with a monster hit".
https://tidal.com/artist/10757414
https: //open.spotify.com/artist/5y7eLIqZ0QaWVvoYDrINzf ...
Date

Time

Arena/Place

Saturday 29 oct 2022
9:00 PM

- 11:00 PM

Berg 3 Scene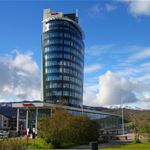 Hotel
Distance: 14 km
Scandic Narvik is the newest hotel in the city, it opened 1st of March 2012. The hotel is one of Northern Norway's tallest builidings, and with it's 17 floors the view is spectacular. You can view the city center, the Ofot Fjord, the mountain "The Sleeping Queen" and all the surrounding mountains.
Accommodation
Distance: 14.5 km
Camp 291 is a new and modern accommodation offer consisting of 9 design cabins located undisturbed in Narvikfjellet. The cabins and the Camp Lodge will together form the basis for fantastic nature experiences all year round. Camp 291 is ready for its first guests in January 2022.
Hotel
Distance: 13.7 km
Thon Hotel Narvik is a full service 4 star hotel and neighbour to the gondola that brings you up to the most beautiful view over Narvik, Ofotfjorden and the surrounding mountains.