Thank you for the music - ABBA 50 years
Arena/Place:
Category:
Events, Concerts
Date: Saturday 5 nov 2022
ABBA is celebrating its 50th anniversary this year and we at Narvik Kulturhus want to mark this with a great concert that will take place over 2 days, 4 and 5 November 2022.
We have been lucky enough to have Lisa Stokke with us as a soloist and she is well known to most people;
Lisa Stokke Jolly is a Norwegian singer and actress who is known for participating in several musicals and TV series, perhaps best known as the original Sophie in the British musical Mamma Mia! as well as leading roles in musicals such as Guys and Dolls, Chess, Evita and Annie both in England and Norway.
As the voice of Elsa in Frozen, Lisa Stokke is also well known among the younger audience and the Oscars in 2020 where she sang with 10 other Elsas from around the world and Aurora, as well as the documentary series Lisa Goes To Hollywood and the British TV series Dr. Who.
Musically responsible: Runar Sollie
The concert is planned to last 1 hour and 30 minutes (no intermission)
Date

Time

Arena/Place

Saturday 5 nov 2022
8:00 PM

- 9:30 PM
Prices from
450 NOK
Price information
Ordinary NOK 450.00 per ticket Senior NOK 400.00 per ticket Student NOK 400.00 per ticket Companion NOK 30.00 per ticket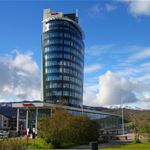 Hotel
Distance: 181 meters
Scandic Narvik is the newest hotel in the city, it opened 1st of March 2012. The hotel is one of Northern Norway's tallest builidings, and with it's 17 floors the view is spectacular. You can view the city center, the Ofot Fjord, the mountain "The Sleeping Queen" and all the surrounding mountains.
Accommodation
Distance: 1.2 km
Camp 291 is a new and modern accommodation offer consisting of 9 design cabins located undisturbed in Narvikfjellet. The cabins and the Camp Lodge will together form the basis for fantastic nature experiences all year round. Camp 291 is ready for its first guests in January 2022.
Hotel
Distance: 742 meters
Thon Hotel Narvik is a full service 4 star hotel and neighbour to the gondola that brings you up to the most beautiful view over Narvik, Ofotfjorden and the surrounding mountains.