Torbjørn Dåbach & Lost Amigos
Arena/Place:
Category:
Events, Concerts
True to tradition, Torbjørn Dåbach & Lost Amigos put on a great concert where the profits go to the cancer unit at UNN Narvik.
He will have several musical friends with him and the program will be updated continuously.
From the newspaper Fremover last time they had a concert, in 2020;
"The expression 'no one becomes a prophet in his own country' does not apply to the humble and positive humming bass Torbjørn Dåbach. He is generosity manifested and cemented his well-deserved status as a living local legend.
Dåbach's charity concerts are essentially compulsory attendance for anyone with a healthy interest in rock's naive idealism and a nostalgic song material that has its origins in the time when music had a message and didn't just contain an endless series of "hooks" wrapped in thick layers of autotune and varnished with melody. Anything to hide all traces of human shortcoming. Kudos to the old gunpowder.
Then the cat was out of the bag. Chew on it, youth! » (Jan Westby)
Date

Time

Arena/Place

Friday 21 oct 2022
9:00 PM

- 11:00 PM
Prices from
250 NOK
Price information
250NOK
Hotel
Distance: 742 meters
Thon Hotel Narvik is a full service 4 star hotel and neighbour to the gondola that brings you up to the most beautiful view over Narvik, Ofotfjorden and the surrounding mountains.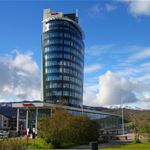 Hotel
Distance: 181 meters
Scandic Narvik is the newest hotel in the city, it opened 1st of March 2012. The hotel is one of Northern Norway's tallest builidings, and with it's 17 floors the view is spectacular. You can view the city center, the Ofot Fjord, the mountain "The Sleeping Queen" and all the surrounding mountains.
Accommodation
Distance: 1.2 km
Camp 291 is a new and modern accommodation offer consisting of 9 design cabins located undisturbed in Narvikfjellet. The cabins and the Camp Lodge will together form the basis for fantastic nature experiences all year round. Camp 291 is ready for its first guests in January 2022.