Experience the Arctic Lights
Experience the Arctic Lights
Experience the Arctic Lights
---
Nights that last for 20 hours and a total absence of sun for many weeks.
When the Arctic light is at its most sparse, it is at its most beautiful.
---
Only when you move away from the illuminated streets and corners will you discover the secret. The eerie Arctic light of darkness.
The Narvik region is surrounded by magnificent scenery on all sides and offers front row seats in all categories for those who want to enjoy the Arctic light during the long polar night.
If you take a seat along the coast on the stones you will be served a fleeting performance where the shades, contrasts and colour range are constantly moving and changing. The highlights can be brief so it's about being there when the rays are dancing.
The Arctic palette
As for the winter sky, the Narvik region really offers the entire colour palette   from the warm tones gilding the low vault of the sky towards Lofoten in the west, via the more measured pastel colours over the mountains in the north, to the wonderful deep blue hue that envelops everything and everyone. Then, darkness once again takes over and gives way to everyone's evergreen flame - the dancing Aurora.
The special thing about the lady Aurora, whose last name is most often Borealis, is that she is always followed by groups of fans. It is her own fan club that comes from all over the world to follow her performances on the polar sky scene.
The greatest chance of success is having those who chase her performances together with professional tour operators and guides. They know her well and know where to look for her.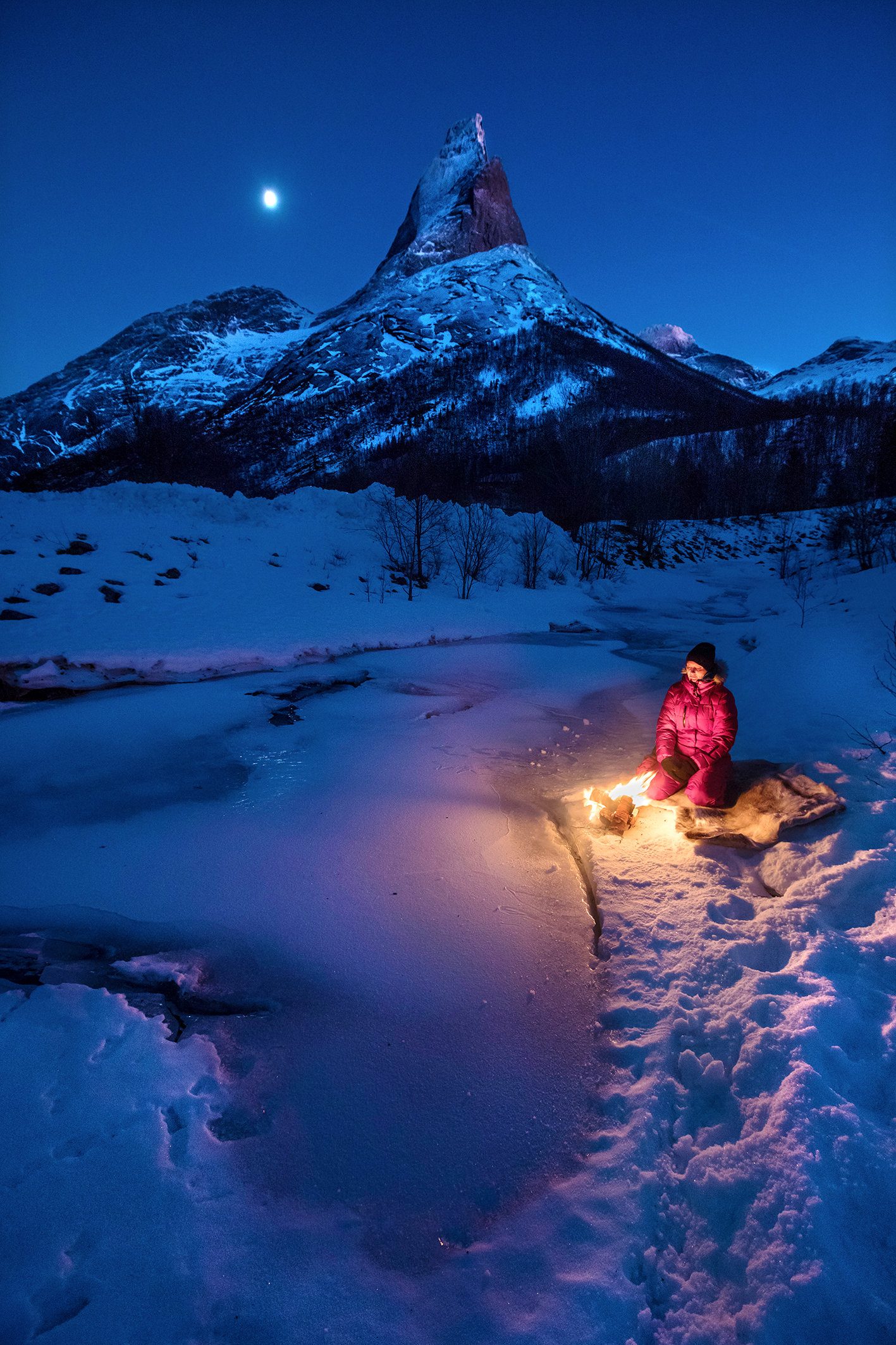 Great repertoire
Without any effort, she moves across the dark sky from the autumn time in September through all the coldest winter months. The repertoire is large, and the beat and tone vary.
Some evenings she is moody and moves slowly and monotonously. At other times, she lets her hair down and releases all her secrets as she sweeps across the sky like a party rocket.
Her green charismatic costume is always on, and when she really wants to show off, she flashes the shades of red, purple and yellow.
Whoever thought of calling it the period of darkness?
Not those who have really experienced the Arctic light!