Northern Norway's
premier Ski Destination
Experience a world-class skiing facility with 6 lifts and 16 pistes, including 9 groomed trails of varying difficulty levels.…
Explore expansive areas for lift-based freeriding and summit tours, boasting one of Scandinavia's tallest fall heights…
Ski from summit to fjord for an exhilarating experience amidst stunning natural scenery...
A vast playground of pristine snow waiting to be explored, and unforgettable experiences that will stay with you forever…
Experience the ultimate in comfortable living, whether you choose to stay in the heart of the ski resort…
Or the bustling city, both offering panoramic views of the stunning fjord and majestic mountains…
Enjoy skiing in an urban setting with the convenience of having all the city's amenities within easy reach…
The premier ski destination in Northern Norway
Experience the ultimate ski destination in Northern Norway with Narvik - a premier Ski Resort offering endless opportunities for alpine, randonee, freeriding, and ski touring.
Narvikfjellet caters to skiers of all levels and ages. During the long ski season that often lasts from November to May, families and beginners can enjoy a separate children's ski band and several areas with jumps, children's games, and park items.
For the more active and experienced skier seeking a good dose of adrenaline, we have several technically challenging trails. Narvikfjellet boasts one of Scandinavia's largest fall heights (1154m) and excellent terrain for off-piste skiing.
Located just above the city center, the lifts take you up to 1006 masl within 10 minutes, providing spectacular views from the top of Narvikfjellet that are unmatched anywhere else. The pistes extend almost down to the fjord, making for an unforgettable skiing experience.
At the foot of the mountain lies Narvik city, making Narvikfjellet Norway's most urban mountain resort. The city provides a diverse array of activities for families, friends, ski touring enthusiasts, and active alpine skiers/snowboarders both on and off the slopes.
Price from
3.415
NOK p.p.
Book your Ski holiday
Package includes
Several different accommodation options
Breakfast*
Lift Pass
Ultimate Family Fun
Experience ultimate family fun at Narvikfjellet, the largest and most comprehensive ski resort in Northern Norway.
With some of Norway's finest backcountry terrain, there's a wide range of exhilarating activities and experiences suitable for all ages and skill levels.
Whether you prefer self-powered or lift-assisted off-piste skiing, Narvikfjellet has got you covered. The ski school offers lessons for children, youth, and adults, with customized classes for different age groups and proficiency levels. Rental options for ski and ski touring equipment are also available.
If skiing isn't your thing, explore the Arctic winter landscape through exciting urban activities such as shopping, visiting museums, bowling, or taking part in unforgettable arctic experiences like RIB touring or dogsledding.
For those seeking a thrilling adventure, a guided snow race on sleds might be just the ticket. Take the cable car up to 659 meters, and then ride down four kilometers for a fun activity suitable for everyone.
At Narvikfjellet, there truly is something for everyone, making it the ultimate destination for a family fun experience.
World-class summit hikes
Explore world-class summit hikes amidst a diverse range of mountain landscapes, from the breathtaking fjords of coastal Norway to the stunning high mountain plateaus of Swedish Lapland.
The Narvik region is an ideal starting point for alpine ski touring and off-piste skiing. It offers a range of possibilities, from urban skiing at the Narvikfjellet Ski Resort - known for providing the best ski-lift accessed skiing in Scandinavia - to the most reputable heli-skiing enterprise in the region. This makes the Narvik region an ideal destination for an unforgettable arctic ski touring experience.
What's up
The winter calendar in Narvikfjellet is looking exciting! Take a read of the top winter events 2023 from sport to apres-ski.
Saturdays
Apres-Ski
In the winter season, the Mountain Restaurant 656 m. serves tasty food and drinks during the day. In the afternoon, Peisestua on the ground floor of the building, is the place to be for après-ski! This is where the DJ's and the troubadours will play the best upbeat tracks after the "last run" of the day.
Camp Lodge is located in the Camp 291 cabin park, 291 meters above sea level, close to the central area of ​​the facility. Camp Lodge is a traditional log cabin with a lounge, where you can enjoy quality wines and interesting conversations to pleasant lounge music.
08 APRIL
Storhalaisen
Join the local ski heroes for the biggest Easter event in Narvikfjellet! Together, they will build a big ski jump for an informal jumping competition, dress up in funny ski suits, and enjoy a barbecue in the sunny Easter weather. Relax in selfbuilt snow sofas to the sounds of good music and experience chill, fun at a high level. Don't miss out on this unforgettable event.
22 APRIL
Take a Chance
Join in on the fun at the most exciting day of the year in Narvikfjellet! This event is not to be missed. Dress up in your wildest costume and grab your favorite snow-friendly means of transportation. Take a Chance and see if you can make it across the pool at the bottom of the slope. Awards will be given for the best trick, faceplant, costume, and means of transport.
28-30 APRIL
Narvik Freeride
Experience the thrill of the Narvik Freeride competition, where athletes are judged on their skill and style as they ski or snowboard down a designated competition face. flow, control, and technique. This competition is about much more than just taking on the biggest cliff. It's about showcasing your talents and pushing the boundaries of what is possible on the mountain.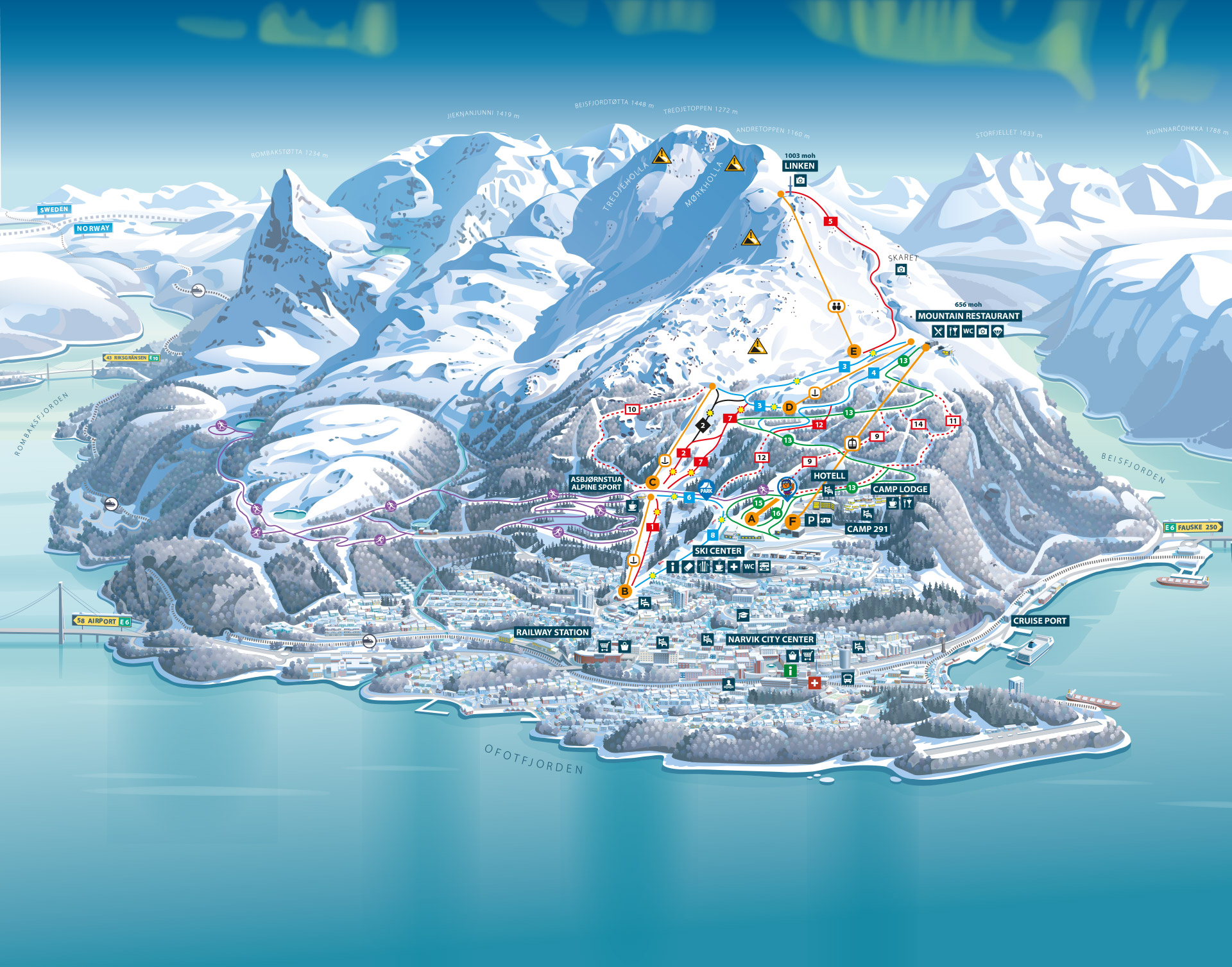 1154
Meters of off piste fall height
889
Meters of lift based fall height
16
Pistes from beginner to expert level
Travel to Narvik
Traveling to Narvik is hassle-free, leaving you to focus solely on enjoying your trip.
If you prefer to travel by train, you can take a direct train from Stockholm, Sweden. This scenic train ride is renowned as one of Europe's most impressive journeys, taking you through the breathtaking nature of central Sweden, up to the north of Lappland, and across the mountains to Norway. The 18-hour journey is a unique opportunity to experience the region's beauty from the comfort of your seat. The night train option is particularly popular, allowing you to sleep during part of the journey and wake up feeling refreshed in Narvik, ready for your skiing adventure. For further details and to purchase tickets, please visit www.vy.se.
The national airport, Harstad/Narvik Airport Evenes (EVE), is located approximately 57 km from Narvik town center and is just a 50-minute car ride away. There are six or more daily flights available from Oslo (OSL) to Evenes (EVE), with express buses to Narvik that correspond to most flight arrivals from Oslo. For additional information and to purchase tickets, please visit Norwegian or SAS